Activate Americans
Tufts nutritionist named vice chair of HHS committee
Miriam E. Nelson, director of the John Hancock Center for Physical Activity and Nutrition at Tufts, has been appointed vice chair of a Health and Human Services (HHS) advisory committee that will make recommendations on the first federal guidelines on physical activity.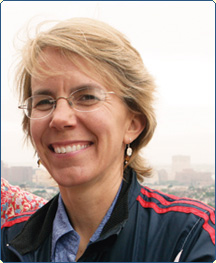 © MELODY KO
HHS Secretary Mike Leavitt announced the members of the advisory committee on April 27 in Washington, D.C. The Physical Activity Guidelines for Americans will be issued in late 2008. The report will offer science-based recommendations on the latest knowledge about activity and health, with depth and flexibility to target specific populations, including seniors, children and persons with disabilities.
Nelson, an associate professor at the Friedman School, is an expert in the relationship of physical activity to health in midlife and older populations, with an emphasis on women. She has directed and collaborated on studies examining the effects of strength training, endurance exercise and balance training on reducing the risks and symptoms of chronic disease and functional decline. Strong Women, Strong Backs (GP Putnam's Sons), her eighth book in the bestselling Strong Women series, was published last fall. She is a fellow of the American College of Sports Medicine, an honor reserved for those who have demonstrated superior leadership and research in the field of exercise.
"These experts have a broad array of knowledge of the health value of physical activity," Leavitt said of the 13-member committee, which will be chaired by William Haskell, professor of medicine at Stanford University. The advisory committee will hold its first meeting June 28 and 29.
This story ran in the Tufts Journal in May 2007.