GSAS leader
Pepall appointed dean of the Graduate School
Tufts economist Lynne Pepall has been named dean of the Graduate School of Arts & Sciences. The appointment was approved by the Board of Trustees in February.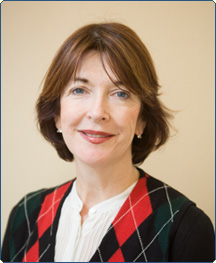 © ALONSO NICHOLS
Pepall had been serving as interim dean since last summer. "During the [fall 2006] semester, it became clear to all of us on the Arts & Sciences Steering Committee that Lynne was an exceptional choice," said Robert Sternberg, dean of the School of Arts & Sciences. "She has substantially exceeded my expectations for what she accomplished in just one semester. She has proven herself an able educational leader, administrator and role model and has excelled in all aspects of the deanship. Her appointment has the approbation of the Faculty Advisory Board as well as of the A&S Steering Committee."
The new dean was born in Canada and earned her B.A. in economics and mathematics at the University of Toronto. She was selected as a Commonwealth Scholar to attend the University of Cambridge in England, from which she received her Ph.D. in economics in 1983. Before coming to Tufts, Pepall was a research fellow at the European University Institute in Florence and an assistant professor at Concordia University in Montreal.
She joined the economics department at Tufts in 1985, serving as chair prior to her interim dean appointment. Her primary field of research is industrial organization. She was awarded a Jean Monet Fellowship at the European University in 1987, and received funding as German Marshall Fellow in 1994-95.
Her first semester in academic leadership was a fruitful one. She coordinated three National Science Foundation Integrative Graduate Education and Research Traineeship proposals on clean energy production, scientific visualization and the nonprofit sector and society, each of which involves faculty across disciplines and schools.
She is working on developing master's degree programs in selected disciplines that would be targeted to high school teachers, and she is also working with faculty in several departments to develop a master's in math and science education. Pepall continues to work with several departments on proposals for doctoral programs.
Pepall has established a faculty advisory committee for the Graduate School, and this committee will work with her to develop and articulate a vision for graduate education in Arts & Sciences.