Green farming
Senate testimony urges support for nation's land stewards
New England farmers will continue to benefit from the Conservation Security Program, a "green payment" system that rewards farmers for good land stewardship.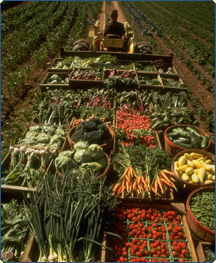 © JOHN DOMINIS/TIME & LIFE PICTURES
"Green payments are the future of agricultural support, and the Conservation Security Program (CSP) has succeeded in rewarding New England farmers for stewardship of working lands," Kathleen Merrigan, assistant professor at the Friedman School, told the U.S. Senate Committee on Agriculture, Nutrition and Forestry. CSP is up for congressional reauthorization and possible reconfiguration in the 2007 Farm Bill.
"However, inadequate funding limited the eligibility of farms in New England to participate," Merrigan, director of the Friedman School's Agriculture, Food and Environment Program, told the Senate committee. "As a result, New England received just 0.4 percent of contracts nationwide—a total of $234,068 in CSP payments distributed by USDA in the fiscal year under study."
Merrigan made recommendations on how the CSP can be revised to better meet farmers' needs. "New England farmers—and likely farmers nationwide—would benefit from acting on eight opportunities to strengthen CSP, a program that should remain central in our national conservation strategy," she said. They are:
Rewarding and motivating farmers by funding CSP as intended
Removing caps to reduce the complexity and improve the transparency of the program
Increasing participation by expanding technical assistance
Recognizing the limits of the soil conditioning index, which predicts how farming practices affect the amount of organic material in soil
Supporting small farms by establishing a base pay minimum
Creating a universal application for CSP funding to streamline the bureaucracy
Enhancing conservation by welcoming new practices
Lengthening the sign-up period to avoid conflict with farm responsibilities
"The CSP was designed to reward the best and motivate the rest," Merrigan testified. "While eligibility requirements draw a bold line between 'the best' and 'the rest,' the reality is that it is often difficult to make a clear distinction," she said. "Certainly CSP participants are using advanced conservation practices. But some farms are deemed ineligible, despite significant conservation practices. In some cases, this is due to program quirks.
"Many of the challenges I have identified with the program are a function of insufficient funding that has led to rules that deviate from the original statute and contorted bureaucratic efforts to distribute limited resources," said Merrigan, a former administrator of the USDA's Agricultural Marketing Service and the staff author of the Organic Foods Production Act of 1990, which mandated national organic standards.
Merrigan urged the committee to "be optimistic about the future of the CSP, to undertake a renewed effort to strengthen the innovative program and to provide it with full funding."