Fogarty fellows
Health sciences students head to South Asia to do disease research
by Meghan Mandeville
Two Tufts health sciences students will conduct global health research in different parts of South Asia this summer as recipients of the prestigious Fogarty Fellowship from the National Institutes of Health. Elliott Garber, V09, MPH09—the first veterinary student in history to earn a Fogarty—will do research in India on diseases that can hop from animals to humans. Aaron Harris, M09, MPH09, will travel to Bangladesh to do work that may contribute to the development of a vaccine for cholera. They are two of only 19 in the country selected for the 2007 awards, considered to be the Rhodes Scholarship for students interested in global health.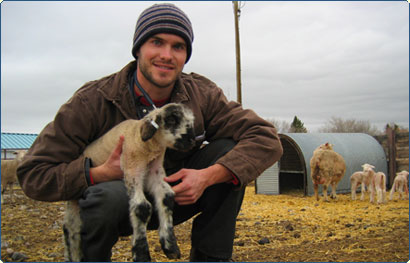 Garber embraced his entrepreneurial spirit in sixth grade. He didn't go the traditional lemonade stand route. Instead, he started his own egg business, raising hens and selling their eggs to parents while they waited in the middle school carpool line. "I was the kind of kid who brought every animal home and begged my parents to let me keep it," Garber said. "I always loved being outside."
Although he eventually turned a profit selling eggs, the Virginia native never seriously considered a business career. Throughout high school and early college, he toyed with the idea of studying medicine. After earning an undergraduate degree in biology and religious studies at the University of Virginia, he settled on a field that combined all of his interests. "I think veterinarians are in a unique place to cross normal boundaries of different types of vocations," Garber said. "I will be able to study diseases that affect humans and animals."
Starting in August, Garber will spend 10 months in Vellore, India, studying gastrointestinal ailments that are "zoonotic," meaning they can be transmitted from animals to humans. Many are fatal. Working with researchers at Christian Medical College, one of India's top medical schools, Garber will examine the epidemiology of cryptosporidium and rotavirus in livestock, wildlife and humans and how these diseases, which can be deadly, affect communities where people live in close quarters with animals. "In other parts of the world … there is a lot more forced interaction between different species," he said.
Once he returns from India in spring 2008, Garber will barely have time to unpack his bags before he ships off to Africa on another fellowship—the National Security Education Program Boren Fellowship, which he received this year and deferred so he could complete the Fogarty. He'll spend six months in Angola and Mozambique, learning the native language of Portuguese and working on programs that seek to eradicate Newcastle disease, a contagious and fatal virus that affects most species of birds and is a devastating problem for poultry in these African nations.
"The goal of this disease eradication program is to develop and distribute a heat-stable vaccine [that will] protect the chickens and the native wildlife," Garber said, noting that eliminating Newcastle disease will help farmers maintain their livelihoods.
The combined edge
For the medical school's Aaron Harris, this will not be his first foray into NIH-funded research. In 2003, he received the Ruth L. Kirschstein National Research Service Award from NIH, which funded his tuition at Tufts as well as the air pollution and respiratory disease research he finished last year in Ecuador with Dr. Jeffrey Griffiths, associate professor of family medicine and community health at Tufts. "I have proven that I am dedicated to this," said Harris, who credits the medical school's combined M.D./M.P.H. degree program with giving him the edge he needed to earn the Fogarty.
"I have a lot of different skill sets," he said, noting that he learned about biostatistics, as well as setting up and running studies, through his M.P.H. studies. That, coupled with his medical school studies, "I guess for this research in Bangladesh that is exactly what they were looking for," he said.
Under the mentorship of Dr. Stephen Calderwood, the chief of the division of infectious diseases at Massachusetts General Hospital, Harris will work in a Bangladesh hospital that specializes in diarrheal diseases. "I am going to be studying [patients'] immune response to hyper-infectious strains of cholera for vaccine development," he said.
"After medical school, I am maybe 95 percent sure that I want to go into infectious diseases," Harris said. After completing his residency in internal medicine, he plans to specialize in the field and eventually work for an agency like the Centers for Disease Control or the U.S. Public Health Service.
Meghan Mandeville is a web communications specialist in University Relations. She can be reached at meghan.mandeville@tufts.edu. This story ran in the June 2007 issue of the Tufts Journal.