Commencement 2007
Mayor Bloomberg's five prescriptions for a happy life
by Helene Ragovin
"Tomorrow, the real work begins," New York City Mayor Michael R. Bloomberg counseled Tufts' Class of 2007 at the all-university commencement exercises on May 20. But for a few hours on an overcast Sunday morning, the work could wait as the joyous graduates gathered with their families, friends, teachers and others on the Medford/Somerville campus to celebrate their moment and to thank those who made it possible.
"Today is a beautiful day," said Tufts President Lawrence S. Bacow. "The weather is not great, but it's a beautiful day. Commencement always is."
The university awarded 2,437 degrees—1,144 undergraduate degrees and 1,293 graduate degrees—during its 151st commencement. Bacow presented honorary degrees to Bloomberg; composer and Tufts professor emeritus Thomas Jefferson (T.J.) Anderson; engineer Lord Alec Broers; astronaut and alumnus Frederick H. (Rick) Hauck, A62; dancer and educator Denise Jefferson; and economist and Nobel recipient Thomas C. Schelling.
Bacow asked the Tufts community to honor the memory of two "distinguished and beloved" former university presidents: Burton Crosby Hallowell, who died last November, and Nils Yngve Wessell, who died in March. "They were instrumental in making Tufts the university it is today," Bacow said.
The commencement was a homecoming of sorts for Bloomberg, who grew up in Medford, and he began his talk with comments that elicited a few chuckles from the audience. "My mother still lives in the house I grew up in," he said. "She also said that while she was here if the people who live on Latin Way would kindly keep the noise down, she'd really appreciate it."
In thanking the university trustees for his honorary doctor of public service degree, he quipped, "My mother always wanted me to become a doctor."
But the mayor—who built an enormously successful career on Wall Street and in publishing—also had plenty of serious advice for the new graduates. "It's going to be challenging at times—but the world, more than ever, needs your talent, your ideas, your energy, your great enthusiasm," he said.
"I have no doubt that the amazing experiences you've had at Tufts are really going to help you achieve great things," he said. "My advice to you: Don't worry about your salary or your title right away. As President Bacow will tell you, 'It's a marathon, not a sprint.'
"The first job you get should be something that will teach and humble and exhilarate," the mayor said. "And don't despair if your career path doesn't follow a straight line. There are plenty of successful people who are doing things that are radically different from where they started."
Bloomberg framed most of his comments in the form of a list, loosely based on the self-help classic, All I Really Need to Know I Learned in Kindergarten. Calling his version "All You Really Need to Know You Learned by Commencement," Bloomberg advised those beginning their careers that:
You 'gotta' take risks. "It's a competitive world out there," he said. "Everyone thinks they have the next great idea, but you'll find that the ones who actually succeed are those who put their ideas into action."
You can't do it alone. "Teamwork is a major part of any group project," he said, noting that everyone at City Hall, himself included, works in cubicles rather than in private offices. "It's a complex world, and no single person has all the skills to solve all the problems, or really any problems. Working collectively and collaboratively is the difference between mediocrity by yourself or success as a team."
Give it to them straight. "Even those who disagree with your conclusions will respect you for being honest and having the guts to tell it like it is," Bloomberg said. He used the example of the New York City ban on smoking in bars and restaurants, an initiative that, at first, encountered stiff resistance. "But by sticking to our guns, and sticking to the facts, we've won a lot of people over," he said. "What you've got to do is be honest. Say what you believe."
Be respectful in times of conflict. "To me, encountering an opposing view is a chance to gain a deeper understanding of the issues at stake and develop your own point of view," he said. "But first you've got to listen."
The more you give, the more you get. "Tufts has an incredibly strong tradition of public service and volunteering. Don't lose that passion when you get out of here and go into the real world. The thrills that stay with you forever are the thrills of doing something and giving something back … It's perhaps the most important thing you can do with your lives."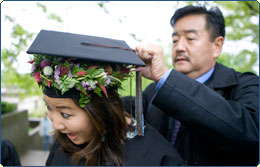 Following the all-university commencement, Tufts' individual schools and departments in Arts & Sciences hosted diploma-awarding ceremonies.
161 new dentists
At a ceremony on Carmichael Quad, 161 dental students became D.M.D.s "If you think back to where you were four years ago, you will appreciate today even more," said Dean Lonnie H. Norris, who thanked the class for its dedication and attention to special-needs patients, including people with disabilities and HIV and survivors of domestic violence.
Dental class President Sam S. Shamardi also asked his classmates to acknowledge how far they have come, recalling the day when using a dental mirror left them nauseated and confused. On behalf of his class, Shamardi recognized "two individuals who always had our back": Mark Gonthier, associate dean for admissions and student affairs, and Paula Callahan, support assistant in prosthodontics. Shamardi also took a moment to remember Joshua O'Dette, a member of the class who died during their first year. A bouquet of flowers lay in the seat O'Dette would have occupied.
The Provost's Award for Outstanding Teaching and Service went to Dr. Donald Hanson, a member of the faculty since 1993 who is retiring this year. Dr. Aaron Fuhrman and Dr. Hernan Quintero Dugarte shared this year's Dean's Award for Excellence in Clinical Teaching. Drs. Joanne Falzone and Charles H. Rankin received the Dean's Award for Excellence in Pre-clinical Teaching.
Rankin, who has won the teaching award every year since 2001, reminded members of the class to maintain balance in their lives. "If you don't have vacation pictures to hang among the root canal pictures, you're doing something wrong."
In addition to the new D.M.D.s, nine students were awarded master's degrees, and 44 received postgraduate certificates of achievement and fellowships. The ceremony ended with Dr. James B. Hanley, the dental school's assistant dean for clinical affairs, leading the graduates as they recited the oath for dental graduates.
Celebrating primary care
The School of Medicine and the Sackler School of Graduate Biomedical Sciences held their commencement exercises in the Gantcher Family Sports and Convocation Center. Dean Michael Rosenblatt began on a personal note by observing that "the Class of 2007 is special for me. I started with you four years ago."
He then identified several trends that have shaped recent graduates of the school, including a growing interest in global health. "In 1978, just 6 percent of our medical graduates had had international experience at the time of their graduation. By 2004, that number had risen to 24 percent." And why was this significant? "We are pledged to alleviate human suffering," the dean answered simply, "and the need is greater in the developing world."
Studies have shown that students who spend time practicing medicine abroad are more likely to become generalists once they graduate, the dean pointed out—and this carries special value at a time when primary care is in desperately short supply in many parts of the country. "I'm so proud that 50 percent of this class will enter primary-care specialties," said Rosenblatt. "In fact, we produce more primary-care doctors than the other three medical schools in Massachusetts combined."
The dean ended by providing some quick avuncular advice to the graduates seated before him. Among his tips for a happy medical career were these: Avoid over-planning, take some risks, keep balance in your life and never stop learning, with science as your base. "Congratulations," he told the class. "We are so very proud of you."
Robert Osterhoff, medical class president, opened with humor, asking his classmates to recall a time "when an appendix was at the end of a book, and a stool was something you sat on." Osterhoff couldn't seem to shake the mortifying memory of his first physical exam of a patient. He had entered the room, he related, to find a diabetic, middle-aged man complaining of chest pain.
"I was trying to remember everything I knew about cardiology. When I asked the man what he did for exercise, he admitted not much. 'You know,' I said, 'even a walk around the block can be good for you.' 'Well, walking is difficult,' the man replied, 'because I don't have any legs.' The man's legs had been amputated, and I hadn't noticed it. That's when I realized that this being-a-doctor thing is going to be a lot harder than I thought."
Despite all the current and potential changes looming like thunderheads over the field of medicine, the class president expressed confidence in his classmates. "As I look out on this crowd, I see people ready to take on these challenges," he suggested. "I could not be happier. We are the 2007 class. We are friends, colleagues, and we are doctors." The way he said that last word made it ring like metal.
Emerging from the labyrinth
Naomi Rosenberg, dean of the Sackler School, cited reduced funding for research and a greater public call for accountability on the part of scientists among the strictures facing biomedical graduates. But she also said she wanted "much happiness" for the young men and women just launching their careers. "The process of discovery has sustained scientists for centuries," she said, "and it should burn brightly and deeply in all of you."
Joeli Berríos, who had trained as a microbiologist under Matthew Waldor, gave the Sackler student address. She likened the pursuit of a Ph.D. to being poised at the entrance to a labyrinth: "We go in as first-years, not sure what we'll find." The long haul of sacrifice and dedication and hard work had apparently paid off for everyone. "Those gathered here today have made it through the labyrinth," Berríos concluded. "And so, let's celebrate. Enjoy your day."
Diplomas awarded included a total of 159 MDs (including 15 M.D./MPHs, 13 M.D./MBAs in health management and three M.D./Ph.D.s), 30 Ph.D.s and 15 M.S. degrees in clinical research. Also, at a separate ceremony, the medical school conferred seven M.S. degrees in health communication, four M.S. in pain research, education and policy and 43 MPH degrees, including four D.V.M./MPH degrees.
Commit to diversity
The Gerald J. and Dorothy R. Friedman School of Nutrition Science and Policy commencement ceremony took place at Cohen Auditorium. In her address to the 69 degree recipients, Lorraine Cordeiro, who received her Ph.D., asked her classmates to commit to increasing diversity in their workplaces and work toward a more tolerant and just society.
"We will head out into workplaces that may not be as diverse as our school, and in many cases these environments will not be representative of the populations they intend to serve," she said. "Without the diverse opinions, values and perspectives of individuals from different segments of society, I believe we lose the essence of why we are so invested in improving the lives of vulnerable members of society. Understanding these perspectives is essential in this increasingly global society."
As for career advice, Prof. William Lockeretz, co-founder of the school's Agriculture, Food and Environment Program, told the graduates to look around for a bit of conventional wisdom in their field, but one that is never offered with any evidence to back it up. "When you find such a piece of dogma, study it empirically and show that it is false," he said. "If that's the case, you will get a reputation that's far beyond your young years, and you'll have a lot fun. It's fun to watch people squirm when their fondest beliefs are even challenged, let alone disproven." He learned that in the mid-1970s, when he published a study debunking the belief that organic farms cannot be economically competitive.
Students of the world
At the Fletcher School ceremony, student speaker Abdul-Rahman B. Akande noted that the class "is more than a collection of ambitious and intelligent people seeking to make their mark in an evermore complicated world. We have soaked in much knowledge, lived and worked in every corner of the world, and learned from the stories and experiences of our fellow classmates. All this we have done in the quest to attain a better understanding of the world we live in."
Fletcher's other student speaker, Jason P. Taylor, reflected on all his classmates had achieved, even before graduation day. "Rachel Schiller was supposed to graduate last spring, but she took a leave of absence from school in order to do humanitarian relief work after the tsunami in 2005. Gioia, Bernie and Mike spent their summer working in microfinance. But instead of interning with an organization, they started their own and reached out to some of the most isolated and neglected communities in Brazil.
"I thought of each of these people, and they reminded me of dozens more who had done things just as noteworthy," Taylor said. "Before long I realized that we have a class full of these people—we are these people. We all have these stories to tell—stories of courage and ambition and resolve and integrity."
New vet, new mom
At the Cummings School of Veterinary Medicine, Dean Deborah T. Kochevar presided over her first commencement. "Commencement day, without exception, is the happiest day for a dean," said Kochevar, who became dean last August.
Eighty-one graduates received their D.V.M degrees. The school also awarded five D.V.M./M.S. degrees, four D.V.M./MPH degrees and nine M.S. degrees in animals and public policy.
Dr. David J. McGrath III, G83, V86, university trustee and chair of the veterinary school's Board of Overseers, urged the graduates to help guide future classes of veterinarians at Tufts. The graduates' choice for faculty speaker was Dr. Raymond K. Kudej, assistant professor of clinical sciences. "None of you is going to remember what I say today, just like my lectures," he joked.
Graduate Sarah Courchesne, who gave birth to a baby boy four days before commencement, gave the student address. She noted that her classmates clearly had a sense of humor, or some sort of wish for an obstetrical incident, when they chose her to address them just two days before her May 22 due date.
Helene Ragovin is a senior writer in Tufts' Office of Publications. Senior writers Julie Flaherty, Jacqueline Mitchell and Bruce Morgan contributed to this story, which appeared in the June 2007 issue of the Tufts Journal.