Food for thought
Can I get a little knowledge on aisle five?
For health-conscious shoppers, a stroll down the aisle of their local supermarket can be both an educational—and an overwhelming—experience. Offers to help consumers lose weight and lower their cholesterol jump off boxes and cans. For many, it can be a lot to digest.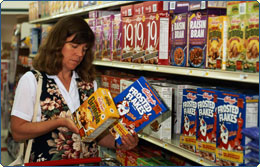 © DAVID YOUNG-WOLFF
Some supermarket chains are stepping in to try to help. Using a variety of rating systems—involving symbols like stars, letters and traffic lights—several companies are experimenting with new systems that they hope will enable shoppers to make faster, smarter purchasing decisions.
Last fall, Hannaford, a 158-store chain in New England and parts of New York, unveiled its Guiding Stars program, which rates 27,000 grocery items between no stars (soft drinks, for example) and three stars (fruits and vegetables).
Jeffrey Blumberg, a Friedman School professor and a member of the scientific team that put the ratings together, sees the shelf symbols as a starting place. "We hope that people will use the stars to read the food labels," he told The Washington Post.
The more information we can provide to consumers, the better, said Eileen Kennedy, dean of the Friedman School. Supermarket programs "are absolutely a step in the right direction because they simplify a very complex body of information for the consumer," said Kennedy, who, along with a team of Friedman researchers, is currently involved in a project with Safeway grocery stores, which owns supermarkets in the United States and Canada, aimed at educating consumers about the nutritional value of its food products.
There are some potential pitfalls. One risk, said Jeanne Goldberg, director of the school's Center on Nutrition Communication, is that these programs could add to consumer confusion by dumping even more data into the marketplace. With so much information already on packages, and rating systems that differ from store to store and brand to brand, consumers may be overwhelmed.
"There is growing concern that all of this messaging, which is company-specific, is going to further clog the airwaves," said Goldberg, noting that the next step may be to create a system that appeals to industry and uses common language and common signals.
If consumers respond to aisle-side recommendations, it may help prompt food companies "to reformulate products to earn more stars," Blumberg said. "That's the underlying hope."
—Meghan Mandeville
This story ran in the June 2007 issue of the Tufts Journal.