Kids first
For David Elkind, a little less hurry now
by Marjorie Howard
It's Monday morning, and David Elkind is getting ready to teach, following a long drive from his home on Cape Cod. Although he has forgotten his change of shoes and will teach in casual boat shoes, he still looks crisp in a tie and coat he has brought for the occasion. Elkind is prepared: This is his 28th year at Tufts, and it will be his last semester teaching students about how best to help children grow and learn.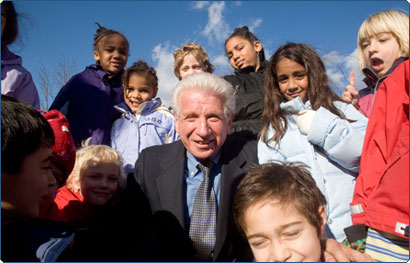 A professor of child development, Elkind is retiring, though that's probably not quite the right word to describe the next stage of his life. He won't be teaching at Tufts, but he'll be busy writing, lecturing and giving interviews. With a new book due out in January, The Power of Play (Da Capo Press), he already has been interviewed by a reporter from Time magazine, and there have been inquiries about translating the book into Chinese. While knotting his tie, he mentions that later in the day, he'll be on a webcast, again addressing some of the questions he has been thinking about for years, namely, how to raise children in a thoughtful, loving way by letting them grow and develop at their own pace.
Elkind came to Tufts in 1978, and in 1982, wrote the book for which he is best known, anticipating the current obsession of over-organizing children into sports, academics and extracurricular activities. The Hurried Child (Perseus Publishing) warned that children were being pushed too quickly into academics and activities they weren't ready for and were not being allowed to grow and flourish at their own rate. Considered a classic, the book is now in its third edition. A 25th anniversary edition will come out next year. He has written 13 books and is the author of more than 400 articles and book chapters as well as several children's stories published in Jack and Jill magazine. He is a regular guest on radio and television and is interviewed frequently by newspapers, magazines and electronic media.
Elkind didn't intend to study children. He earned a Ph.D. in clinical psychology from UCLA, and it wasn't until he did a residency at the Austen Riggs Center in Massachusetts that he became keenly interested in how children grow. He worked for a clinician who was interested in the work of Piaget, the Swiss psychologist who is known for his theories of child development. "I thought Piaget was wrong," Elkind recalled. "I repeated his studies, and lo and behold, he was right. I loved working with children and learned more about child psychology."
The academic race
Elkind says the whole rush to move children at ever accelerating speeds began around the time that the federal early childhood education program Head Start was created in the mid-1960s. "It's a great program," he said, "but the title gives parents the impression that academics is a race, and the sooner you start, the better. Middle-income parents then wanted a head start for their kids, too. There was also a revival of Montessori, which was seen as a program that taught children to read and do math early. It had been abandoned for decades, but in the '60s, it came alive again. Fortunately, it's a good program, but it reflected the idea that education is a race. Wrong ideas catch on quickly and are harder to displace than right ones."
His latest book, The Power of Play, elaborates on some of the themes that have intrigued Elkind throughout his career. "I came to see that the unintended side effect of hurrying is silencing children's play," he said. "There are more and more organized activities, and spontaneous play is now seen as a luxury that is not affordable in a high-tech, globalized society. The role of play needed to be clarified: It's a form of learning. Piaget said—and I quote him in the book—that play is the answer to the question, 'How does anything new come about?' "
Elkind said children learn about the world by creating new experiences through play. "When a child drops a rattle from a crib, he or she discovers gravity. When they bang on things, they learn what noises they make. Nobody teaches children to walk and crawl. They need to create their own experiences. Through those experiences, they learn many things they couldn't learn from the outside."
If anything, Elkind said, things have only gotten worse since he wrote his groundbreaking book, with an emphasis on software for infants such as Baby Einstein and a series of toys, DVDs and other products aimed at developing the infant intellect. A newer line of products is called athleticBaby, a group of DVDs on such subjects as golf and basketball for very young children. Elkind said he recently had a conversation with a dean of admissions at MIT who told him that many of the students she sees have limited imagination and creativity because all their lives they have been over-organized and over-programmed.
A happy trilogy
Elkind's new book addresses what he calls the "trilogy of basic human drives"—namely, work, love and play—which are, he explained, what Freud and Piaget said are essential to a productive life. "The thesis of my book is that the most effective parenting is when you combine all three."
In an op-ed piece published in the Boston Globe in October, Elkind wrote: "At school, for example, when children have some input (play) into the curriculum, this creates positive motivation (love) and more effective and lasting learning (work). The same is true in the home and in the workplace. Parents who listen to their children and allow them to take part in some decision making (play) gain respect and attachment (love) as well as effectively instilling the rules of the household (work). In those workplaces where employee input (play) is welcomed and rewarded, workers have a positive attitude toward the job and their employers (love), and the result is a better product or service (work)."
A popular teacher, Elkind said he will miss the interaction he has with Tufts students but is looking forward to fewer responsibilities. Why retire now? "I'm going to be 76, and it feels like the right time. I'd rather go out while I still have all of my buttons. And I want to spend more time with my grandchildren, traveling, writing and lecturing around the country. It won't be a real retirement."
Elkind is the father of three grown sons and the grandfather of three little girls, ages 5, 3 and 1. His sons and daughters-in-law are well aware that he has cautioned parents to allow plenty of time for spontaneous activity. Perhaps thinking along those lines for their father, Elkind's sons gave him a kiln for his most recent birthday, and he is enjoying making pottery as well as sailing and gardening.
Marjorie Howard is a senior writer in Tufts' Office of Publications. She can be reached at marjorie.howard@tufts.edu.