In your face
Trucking art around campus—and beyond
Austrian artist Günther Selichar staged a public art intervention this fall in conjunction with his exhibition, "Media Machines," at the University Art Gallery. He typed the word "EMBEDDED" on a computer, and then, using advanced digital photography, magnified and enlarged the word to reveal the blue, red and green pixels that constitute what the eye sees as white on the screen. The photograph became a 53-foot graphic displayed on the sides of a truck parked on the Medford/Somerville campus during the exhibition. The truck also took periodic spins around Boston.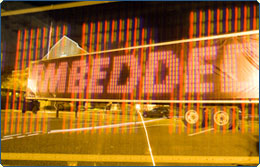 "Who's Afraid of Blue, Red and Green?" © EWAN DOUGLAS
The public art intervention was part of Selichar's ongoing series, "Who's Afraid of Blue, Red and Green?," that has been displayed in New York City, Shanghai and a number of European cities.
To create awareness of the truck and the exhibition, the University Art Gallery sponsored a photography competition. Forty photographers submitted shots of the truck, and the images were judged by Selichar and the gallery staff. Ewan Douglas, a junior majoring in physics, won the contest and a 30GB 5th generation video iPod. His photograph, shown above, was selected based on its aesthetic merits, its use of double exposure to address the "embedded" theme and its emphasis on the three primary digital colors of blue, red and green.