Fired up for fitness
Down at the station, candy corn no longer qualifies as a vegetable
By Marjorie Howard
Brown rice or butternut squash in an orange glaze are not typical fare at a fire station. Firefighters like their meat. "We'll eat until it's gone, and we eat it quick, too," Somerville firefighter Jay Colbert said, "because a lot of times, you may find yourself running out in the middle of a meal for a call." Or, in this case, a healthy cooking class.
During a nutrition workshop that Claire Kozower, N01, ran at one Somerville fire station, a series of urgent beeps meant the firefighters spooning yogurt and fruit into cups and dicing tomatoes suddenly raced out the door. Thirty minutes later, they quietly reappeared and picked up where they left off.
Life is like that at the station: One minute you're sitting around. The next, you're racing up a flight of stairs lugging 100 pounds of equipment.
To help firefighters prepare to go from the sedentary to the swift, the City of Somerville and the fire department received a $228,000 grant from the Department of Homeland Security to improve the health and wellness of firefighters. Impressed by Shape Up Somerville, an obesity-prevention program the Friedman School runs in the city's public schools, the fire department asked the nutrition school to step in once again.
The Somerville Firefighters Wellbeing Program began last spring, when more than 100 firefighters, dispatchers and administrators learned how to exercise on new equipment bought with the federal grant. Dozens also participated in nutrition workshops and cooking classes. Shape up Somerville creator Christine Economos, holder of the New Balance Chair in Childhood Nutrition at Tufts, and Sarah Cluggish, associate director of the Children in Balance childhood obesity initiative, are shepherding the well-being program.
And a side of ribbing
Because firefighters work 24-hour shifts, they cook and eat together—often going for the fast and the fattening. At one workshop, Deputy Chief Jim Lucia and his men focused on vegetables—with a side order of teasing. A dozen firefighters sat around two long tables. On the walls were charts describing the nutritional value of fruits and vegetables.
"How many of you eat the recommended amount?" asked Kozower. One man raised his hand. But his co-worker insisted otherwise: "Bud Light is not a vegetable."
Asked another, "Can you get a serving of fruit from apple pie?" Told that he could, his pal said, "Then he's had three servings today."
But when it got to a discussion of how to eat better, things got serious. "More and more evidence comes out every day that it's important to eat fruits and vegetables," Kozower said. "I hope you walk away today motivated to incorporate more into your diet."
Kozower handed out recipes for a hummus-like dip made with tomatoes, nuts and garlic; roasted carrots and broccoli; chili with beans, corn and ground turkey; and yogurt and fruit parfaits for dessert. The firefighters got to work, and the room turned into a blur of chopping, simmering, dicing and laughter. Buster Siciliano expertly tossed vegetables in a sauté pan. He wasn't worried that Kozower brought enough food for 30 firefighters, and there were only 15 in the group. "You've got to cook for 30 to feed 15 at a fire station," he explained.
The first part of the well-being program was an initial assessment of the firefighters' height and weight. They also took fitness tests to measure their strength and endurance. "Their number-one concern is to be able to respond to any call that comes in," said Franci Otting, A03, a certified strength-and-conditioning coach who is the liaison between the Friedman School and the firefighters. "The average firefighter has been on the job a number of years. Aging affects all of us," Otting said. "The goal is not to force change on anybody, but to make the change easy to reach out for."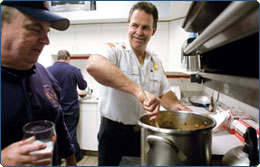 In addition to Kozower's workshop, firefighters heard from Friedman faculty about healthy eating, learned about how to use knives properly and figured out how to order a healthy meal from a take-out menu. Guy Koppe, N03, who works for Project Bread and is a chef at Gourmet Caterers in Roslindale, Mass., showed the firefighters how to take one main dish and create a variety of menus by pairing it with six different side dishes, each of which could be served with a lemon-and-thyme-roasted chicken for a different meal.
"The meat is really the center of the plate when they cook," Koppe said, "and they may or may not have vegetables with it. So I tried to shift the emphasis from meat taking up most of the plate. We made a salad, too, and they were excited to make a vinaigrette on their own."
Colbert is president of Local 76 of the International Association of Firefighters, which was instrumental in bringing the program to Somerville with the support of Chief Kevin Kelleher. "The combination of physical fitness knowledge and nutrition knowledge has been invaluable," he said.
Back at the turkey chili dinner, Kozower asked the firefighters what their favorite fruits and vegetables are. "Candy corn," one replied. "Caramel apples," said another. The group laughed and dug into dinner.
Marjorie Howard is a senior writer in Tufts' Office of Publications. She can be reached at marjorie.howard@tufts.edu.