Balmuth Lectures
Four explorations of antiquity and the modern world
During more than 40 years in the classics department, Miriam S. Balmuth conducted innovative research and fieldwork and was the driving force behind Tufts' interdisciplinary archeology program. To honor Balmuth, who died in 2004, the department, with the support of her family and friends, established a lecture series in her name last year.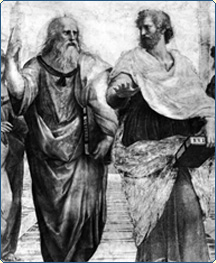 © TIME & LIFE IMAGES
This year's program will offer four separate lectures from February 26 through March 1. The overarching topic for the series is "The Invention of Modernity: Choice, Knowledge and Action in Classical Greek Thought." The speaker for all the lectures is Josiah Ober, professor of political science and classics at Stanford University. Ober is a renowned scholar of Greek history and in particular the origins of democracy. His lectures will focus on the contributions of Herodotus, Thucydides, Plato and Aristotle to ancient and modern political thought.
R. Bruce Hitchner, professor and chair of classics, said the Balmuth Lectures "are intended to reflect the ongoing value of the classics within and beyond the university, and especially the relationship between antiquity and the modern world."
Ober has won numerous fellowships and written and edited more than a dozen books. "He is a truly remarkable scholar," said Hitchner. "His work has shown how the people of Athens formulated, exercised and worked through the rights and obligations of democracy. His most recent work has focused on how the processes of democracy as developed by the ancient Athenians might be applied to the corporate workplace."
Balmuth, who joined the classics department in 1962, led the first U.S. excavation to Sardinia and opened the field of Sardinian archaeology to international scholarship. She served as the director of the archeology program at Tufts from 1981 to 1995, bringing together history, anthropology, sociology, chemistry, geology and physics. She was considered a trailblazer, earning tenure during a time when few women studied classics.
Hitchner said that Ober will be on campus for four days and will be meeting with classes and be available to student groups. The classics department will publish the lectures. The series is underwritten and funded by the family and friends of Miriam S. Balmuth.
The first lecture will be on Monday, February 26, from 7 to 9 pm. in Cabot Auditorium. For the complete listing of lectures, go to http://ase.tufts.edu/classics/balmuthlectures/index.html.
—Marjorie Howard