Endings and beginnings
A professor muses about what comes after 4 years—and 30 years—of college
by Eglal Henein
I froze when my chairman asked me to give the commencement speech. In the French culture, "commencement" is just a beginning. My first concern was to get a gown. I have no hood or tassel because the Sorbonne, my alma mater, does not have any school color. My second fear made me look up "commencement address" in the library and on the Internet. What I found scared me even more, "commencement" being trapped between "to commemorate" and "to commend"!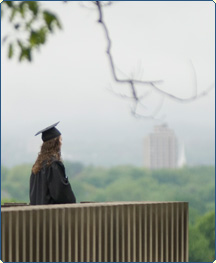 I learned that some extremely eloquent people delivered unforgettable talks at commencements. One speaker started with "Stay Hungry. Stay Foolish." Another compared his role of commencement speaker to the function of a corpse at a wake. Both bodies need to be there in order to have a celebration, but no one expects them to say very much. To find more useful help, I turned to the main listeners of a commencement speech, the students. Some told me "be funny;" some told me "be positive," and one (my nephew) told me "be short." One of my advisees, Joanna Szymkowiak, gave me a 1,157-page book (two and a half pounds!) with a post-it saying: "2 months and 1 week left." I learned there that the first rule of American speechwriting is to make it personal … Thank you, Joanna! I confess that, as a matter of fact, part of me is very happy to have this opportunity to talk to seniors at this point in my life. I am retiring soon, after 30 years of teaching at Tufts. You and I are asking ourselves: What will follow our college years?
You and I are now starting a trip. It will not be a cruise on the Love Boat. It will not be a "Survivor" game. "We will not discover new lands unless we accept to lose sight of the shore," unless we agree to turn our back on the past. André Gide wrote this sentence that some of you may have seen posted in my office: "On ne découvre pas de terre nouvelle sans consentir à perdre de vue d'abord et pour longtemps tout ravage." We will find new horizons only when we'll put behind us the comfortable scenery of a nice, hilly campus. We should not worry about luggage. Our heads, our hearts are even more filled than our closets. You took at least 34 courses; I taught even more. Our readings, our writings, our research provided us with food for our souls. In our voyage, we should not worry about carrying passports or visas. They come with your diploma, your transcript, your résumé. You and I will be free to roam the world—as they say in TV ads.
In real life, there are no distribution requirements to complete and no concentration requirements to fulfill, no gut course and no high-demand course. You and I will be able to enjoy anything and everything. For four years, each one of you had at least two advisors, plus two host advisors, plus one associate dean, plus one dean, plus an RA in your dorm. Some even found mentors on campus. Now you will travel on your own, without any syllabus. I had three presidents, 12 deans, eight chairpersons, a faculty website, an advisor handbook and a few friendly consultants. In our trip, we will often feel lonely; we'll have to design our own itinerary. Every detour will give us the opportunity to experience something unexpected.
Leaving shore
"We will not discover new lands unless we accept to lose sight of the shore." You and I will certainly miss many things, including this choreographed ceremony and this magnificent building. We will be tested, without knowing in advance what chapters the test will cover. We will be judged, without getting back a helpful comment. We will meet winds, when we want a breeze. We will have to wait, and we will have to trust the unknown. Those who remember En attendant Godot (Waiting for Godot), those who did not forget religion classes, know that there are three sources of strength: Faith, Hope and Charity, daughters of Wisdom. I will suggest a fourth source. It is not a virtue. It is much more humble. It is not a style. It is a state of mind. It is fervor; it is unrelenting passion. "Je t'enseignerai la ferveur," André Gide wrote. I hope each one of us will travel with ample stocks of passion. Apply your passion to your job; apply your passion to your studies. Passion has been my main asset; passion is my main asset. When I was seven, for my first Communion, my parents gave me 10 books of la comtesse de Ségur, novels girls read before graduating to Little Women by Louisa May Alcott. I was so incredibly happy devouring these 10 books that since that time, my whole life has focused on reading and on literature.
My retirement project is the electronic edition of a 17th-century novel. My passion has changed its manifestation, but it is still the same passion. I lived in another culture, another country, another century … Today, you all have many more options, many more roads you wish to follow. I hope that you will always put passion in your travels. I am sure you will discover new lands. Please send us postcards! I will conclude with one last quote from André Gide: "Tomorrow's joy is possible only if today's joy makes way for it; each wave owes the beauty of its line only to the withdrawal of the preceding one."
Eglal Henein, professor of Romance languages, gave this commencement address to the graduates of Tufts' two language departments on May 20. She came to Tufts in 1977 as an assistant professor of French and retired this year. This article ran in the July 2007 issue of the Tufts Journal.