Star gazer
Cardiologist builds nation's largest homemade telescope
Dr. Mario Motta, assistant clinical professor of medicine, is a cardiologist practicing in Salem, Mass., who pursues astronomy on the side, frequently traveling the world to observe solar eclipses and peering deep into the night sky whenever he can.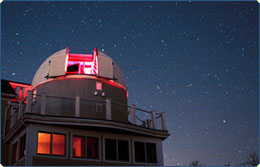 © MARIO MOTTA
"When I started out in astronomy," Motta told Tufts' medical alumni magazine in 1998, "I figured I'd either have to be very rich or learn how to build telescopes." He has followed the latter path with a vengeance. Motta's latest creation, completed after three years of sustained labor—which included personally grinding the optics and fashioning all the metal parts on his basement lathe—is the largest homemade telescope in the United States. The telescope has a 32-inch mirror and is housed in a custom-built observatory—complete with a dome that is 20 feet in diameter—that is attached to the doctor's house in Gloucester, Mass., where the skies are dark as ink.
Motta is well known within astronomical circles for his advocacy. He won the Las Cumbras Award from the Astronomical Society of the Pacific in 2003 for his community outreach and the Walter Scott Houston Award from the Astronomical League of the Northeast for his work on reducing regional light pollution, among other achievements.
This story ran in the Tufts Journal in April 2007.