Spring dance
Tufts choreographers stage 2 shows in April
Students of the Tufts Dance Program will present two programs of dance explorations and compositions this month under the direction of faculty members Daniel McCusker and Alice Trexler.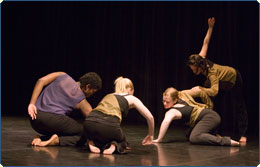 © MELODY KO
The choreographers have used sources as varied as poetry, postcards, favorite moves, chance-generated material and more. Several of the segments involve collaborations between the choreographers and directors or guest artists.
The concerts will take place on Friday, April 27, at 3 p.m. and again at 5 p.m. in the Jackson Dance Lab, Talbot Avenue, on Tufts' Medford/Somerville campus. The performances are free and open to the public. Seating for off-campus audience members may be reserved by calling 617-627-2556.
This story ran in the Tufts Journal in April 2007.