Time to eat

Culinary job-training program also feeds those in need
by Helene Ragovin

The enthusiasm in the kitchen at Carmichael Dining Hall is bubbling as fiercely as the stockpot of water on the industrial-size stove as a small fleet of aspiring cooks sets about preparing dinner.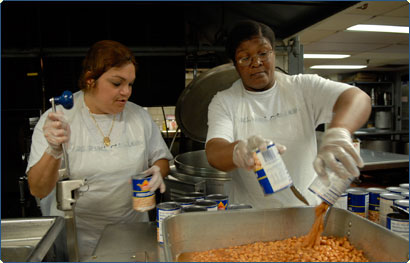 Food-service trainees Maria Sanchez and Murielle Mazaire prepare a meal in the Carmichael Dining Hall kitchen. © JODI HILTON
At one station, Alexander Diehl takes hold of a chef's knife and a large yellow onion. With careful, precise movements, he peels the papery skin and slices crosswise, gives a half-turn and slices again, the onion dissolving into a perfect dice.
Across the room, Will Hart examines a pyramid of summer-fresh vegetables. "Don't add too much water to the tomatoes and eggplant," says Eleanor Heidkamp-Young, A08, a Tisch Active Citizen Summer Fellow who spent eight weeks as a cooking and food-safety instructor. "Remember, they're going to give off a lot of water."
When it's done, this dinner—enough to feed about 75 people—won't be served at a campus dining hall. It will be delivered by volunteers to two shelters in Somerville and Cambridge. This meal isn't just about filling empty stomachs. The experience is bringing five job-training students that much closer to their goal of becoming certified food-service workers.
"This is a once-in-a-lifetime opportunity," says Emerson Millien, a young Haitian immigrant who lives in Medford, Mass.
Partners for change
The five trainees were the first participants in a culinary job-training program that Tufts hosted for social-service clients this summer. The program is a partnership between the Tisch College for Citizenship and Public Service and the Somerville Homeless Coalition, with assistance from Campus Kitchens, a nonprofit organization that supports food-assistance activities at colleges across the country.
The goal was to prepare the trainees to pass a national exam, known as ServSafe, which certifies their knowledge of food safety and sanitation. "When you have ServSafe, you can go somewhere," says Diehl, who has worked in kitchens for several years but wants to move on to better-paying jobs within the industry. "[Employers] are always asking for proof of experience. ServSafe will show my learning, and, somehow, I hope I can find a good job."
The instructors were Heidkamp-Young and Becky Locker, a Campus Kitchens intern from the University of California at Santa Cruz. Both undergrads received their own ServSafe certification before the summer program began, and over the course of eight weeks, they taught thrice-weekly classes in food safety and sanitation.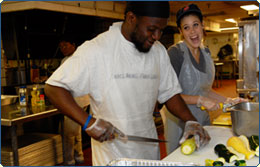 Trainee Emerson Millien and Becky Locker, a Campus Kitchens intern, chop fresh summer squash for a meal that will be delivered to a local shelter. © JODI HILTON
200 meals a week
Each week, the Carmichael team turned out about 200 meals as they practiced their kitchen skills. Those meals, in turn, were used to fulfill emergency food needs at local shelters.
"Hunger is a huge issue in Somerville," said Heidkamp-Young. "That really intrigued me. It's an area where I could make an immediate difference." As an Active Citizen Summer Fellow, she was paired with the Somerville Homeless Coalition and worked with coalition Director Mark Alston-Follansbee to develop the Tufts program over the course of the 2005-06 academic year. (The program is also coordinated by a steering committee with representatives from Tufts and the coalition.)
"I always loved food, but I didn't realize going into this that it would be so much about food and cooking," Heidkamp-Young noted, referring not only to the hours spent in the kitchen, but the additional time to scour cookbooks for recipes and to plan menus. The program relied entirely on donated food, mainly from Food for Free, a Cambridge-based nonprofit that distributes unused food from farmers' markets, Tufts Dining Services and the Danish Pastry House on Boston Avenue in Medford.
The trainees also received "life skills" training—how to put together a resume, conduct a job search or perform at a job interview. The trainees live in Somerville, Medford or Cambridge and were all referred to the Tufts-Homeless Coalition program by social service agencies. "They're all transitioning," said Heidkamp-Young. "They could all benefit from a stable job. We're giving them the skills to try to pursue that."
Back in the Carmichael kitchen, Maria Sanchez and Murielle Mazaire, their hair tucked neatly into hairnets, scurry from counter to stove, preparing quantities of pasta and rice and ground meat. Over the course of the eight weeks, the trainees, their teachers and the other volunteers learned to work together smoothly and efficiently and to cheer each other on, whether with a kitchen project or other life challenges.
"The teachers have been great," says Sanchez. "They make the material more interesting, and they motivate us … and we work together as a team, which is the most important."
Helene Ragovin is a senior writer in Tufts' Office of Publications. She can be reached at helene.ragovin@tufts.edu.