Beginnings

Class of 2010 urged to keep an open mind in pursuing their passions
By Helene Ragovin

"Find your passion," Tufts President Lawrence S. Bacow told the university's 1,284 newest undergraduates at matriculation ceremonies on August 30.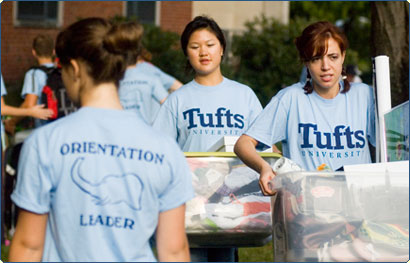 Moving in © BRIAN LOEB
"College is a time of exploration, a time to learn much about the world and about yourself," Bacow told the first-year students, who gathered on the lawn in front of Bendetson Hall flanked by their excited—and sometimes emotional—family members and friends. "In electing to pursue this journey at Tufts, you embrace a history and tradition that will shape your experience in profound ways."
The Class of 2010 carries on Tufts' tradition of academic excellence: It is the first class to enroll at Tufts with combined SAT scores greater than 1400 and includes 49 valedictorians and 33 salutatorians.
"No doubt some of you are entering college with a pretty good idea of what you want to do with your lives," Bacow said. "There is nothing wrong with making plans. But as the old line goes, 'Man plans, and God laughs.' Keep an open mind. You may discover your passion in unexpected places.
"I suspect the vast majority of you don't have a clue what you want to study while you are here. My advice is to relax," Bacow continued. "You will have plenty of time to figure it out. One of the great virtues of a liberal education is that it provides a wonderful foundation for life.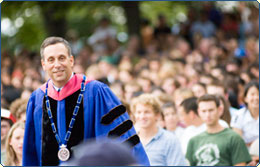 President Lawrence S. Bacow prepares to address the newest class of undergraduates. © BRIAN LOEB
"Although it may sound like heresy for a university president to say this, it really does not make all that much difference what you choose to study as long as you do it well," he said.
Then the president proceeded to list the majors and subsequent careers of several outstanding Tufts alumni, including Jeff Kindler, A77, CEO of pharmaceutical giant Pfizer, who majored in English and political science; Tracy Chapman, J86, Grammy-winning musician, who majored in anthropology; Abby Kohnstamm, J75, former senior vice president of marketing worldwide for IBM, who majored in dance; Jim Stern, E72, CEO of the private equity firm Cypress Group, who majored in civil engineering; William Hurt, A72, the Academy Award-winning actor who majored in religion before switching to drama; and Joseph Hoar, A56, a retired four-star Marine general, who majored in psychology.
"I could go on," Bacow said. "What is important is that you find your passion during your next four years. Your career will reveal itself to you in due course."
A beginning for the Class of 2010 © JOANIE TOBIN
The Class of '10 arrives at Tufts as an extraordinarily capable group, with many passions beginning to blossom. There is a biomedical engineering student who has created a heart-rate monitor that won a national competition. A pre-veterinary student has conducted research on red wolves in captivity. One student taught English at an underground school in China. One student co-drafted a bill on safe cosmetics that went before the California Senate; yet another founded Students Against Mitt Romney to protest the Massachusetts governor's cuts to education funding.
There are several dozen musicians who excel in both voice and instrumental music; they play instruments as varied as the bassoon, Chinese hammer dulcimer and Irish tin whistle. There is a ballerina who has danced in more than 200 performances of "The Nutcracker" with the Boston Ballet. There is a member of Singapore's national cricket team and the U.S. national rhythmic gymnastics team and students who have won medals and championships in tennis, squash, sailing and Ultimate Frisbee.
Learning the lay of the land, from left, Brian Wong, Michael Wong, Minnie Wong and Kevin Wong, A10. © JOANIE TOBIN
There are also students who have overcome significant obstacles in their young lives. Some have recently come to the United States from countries such as Eritrea, Sudan, Mongolia, Vietnam and Afghanistan. One is the child of a New York City firefighter who died on 9/11. A Rwandan student witnessed genocide as a child. A student-athlete was able to return to sports after suffering brain damage in a car accident.
All of the incoming students have expressed a desire to bring change and improvement to the world. That, too, aligns them with a Tufts tradition.
"We believe that with education comes responsibility," Bacow said. "Those of you who are fortunate enough to study at Tufts have an obligation to use your education for the benefit of others. We believe that each of you must become an active citizen of this community and every community that you will inhabit in the future."
Helene Ragovin is a senior writer in Tufts' Office of Publications. She can be reached at helene.ragovin@tufts.edu.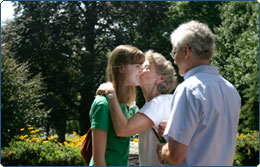 The long goodbye © JOANIE TOBIN