A&S leadership

Art historian appointed dean of academic affairs

Andrew McClellan, associate professor of art history and director of museum studies, has taken on the role of dean of academic affairs for Arts & Sciences, joining Dean Vickie Sullivan in this post.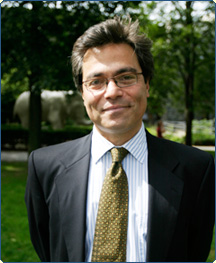 Andrew McClellan © JOANIE TOBIN
McClellan brings a wealth of experience as a scholar, teacher and administrator to this position, Arts & Sciences Dean Robert Sternberg said in making the announcement.
He joined the Tufts faculty in 1986, having previously taught art history and American studies at the University of Sussex in England. Raised in Chicago and Great Britain, McClellan is an alumnus of the University of Chicago Laboratory School. He received his B.A. in philosophy and the history of art from University College London in 1978, an M.A. in the history of art from the University of East Anglia in 1980, and a Ph.D. from the Courtauld Institute of Art of the University of London in 1987. His doctoral thesis was on the origins of museums in Enlightenment France.
At Tufts, he has taught a range of courses on European art and architecture of the 17th through the 19th centuries as well as seminars on the history of collecting, monuments and memory, the art of travel and the representation of nature in art. He has also taught in the World Civilization program and at the Tufts European Center in Talloires, France.
For the past 15 years, McClellan has been involved in the post-baccalaureate Museum Studies Program, which he helped create and which he now directs. After starting in the Department of Art History, Museum Studies now embraces history and education and will soon expand to include classics and anthropology. The program has become a model of interdisciplinary graduate education, integrating academic and applied learning.
McClellan has helped supervise a number of Ph.D. students, including two interdisciplinary doctoral students at Tufts. He is using his current fellowship at the Tisch College to further infuse his teaching with civic engagement.
During his nearly 20 years on the Medford/Somerville campus, McClellan has served in a number of administrative roles, including chair of art and art history for six and a half years and director of graduate programs and museum studies for the department. He has also served as chair of the Faculty Research Awards Committee and University Art Collections and academic director of Talloires.