Aglow again
Nerd Girls bring solar power to Thacher Island
by Marjorie Howard
On a Saturday night in early July, dozens of citizens of Rockport, Mass., lined up along the shoreline to witness something they hadn't seen in more than a year: The twin lighthouses of Thacher Island, just off the coast, were finally both alight again.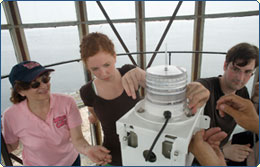 Karen Panetta, left, and her Nerd Girls used a solar-powered beacon to light up the North Tower on Thacher Island. © MELODY KO
While the South Tower Light, owned by the Coast Guard, was in full operation, the North Tower Light, owned by the town of Rockport, had been out of commission because an underwater cable had been severed and was too costly to repair. Now, thanks to a Tufts engineering professor and her students, the North Tower is beaming once again.
Karen Panetta, associate professor of electrical and computer engineering, lives in Rockport and knew about the darkened lighthouse. Eager to find a project for the group of students she has dubbed the "Nerd Girls," Panetta approached the Thacher Island Association after learning the group was interested in getting help designing an all-solar system for the island.
In the past, the Nerd Girls, students who are challenging stereotypes about women scientists, have built a solar-powered car. This time, their mission was to design and install a small, solar-powered beacon. What they came up with was a 25-pound battery that charges two solar panels that provide power to the lighthouse. The students worked on the project for a year and a half and installed the beacon on a sunny day in early July.
While the North Tower isn't an official aid to navigation, the two lighthouses are a source of pride to Rockport residents and mark the location of a reef just a few hundred yards east of the island.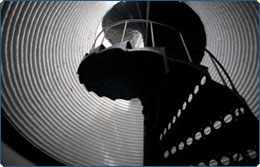 Inside the North Tower © MELODY KO
The students are also working on lighting the stairwell in the lighthouse that now is pitch-dark in some places. In addition, they plan to bring power to the lighthouse keeper's house, which will also use a solar system. Joining Panetta on the voyage to install the solar battery were engineering students Valery Thompson, Marianne Stark, Allison Bedwinek, Raenne Dietz, Sumati Nakarni and Joanna Rucker.
Marjorie Howard is a senior writer in Tufts' Office of Publications. She can be reached at marjorie.howard@tufts.edu.