Out of the box

New center will help faculty teach to a diversity of learning styles
By Marjorie Howard

When Arts & Sciences Dean Robert Sternberg took his first college psychology course, he got a C—not an auspicious start for someone who eventually earned a Ph.D. in the field. The problem, he recalls more than 30 years later, was that his tests were all based on what students could memorize, and Sternberg is lousy at memorization. To add insult to injury, most of the material he had to learn isn't even being taught in psychology anymore.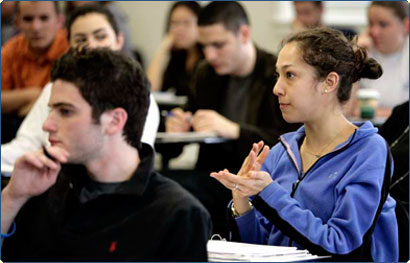 The Center for the Enhancement of Learning and Teaching will help faculty members adapt their teaching styles to the diversity of learners in Tufts' classrooms across the university. © MELODY KO
Sternberg may not have fared well on tests that relied on good memorization skills, but he did do well on tests that involved creativity or verbal ability. "I can tend to be very good in writing, but I'm relatively poor in spatial visualization, so in my life, I capitalize on my verbal skills: I write a lot of articles, read a lot, give a lot of talks," he said. "But I bought a GPS system for my car, and I always make sure that I have verbal directions when I go to a place because I don't read maps that well. Nobody is good at everything, and people have to learn how to make the most of their strengths and get by—either by compensating for or correcting weaknesses."
Sternberg's longstanding interest in different styles of learning resulted in his founding the PACE Center at Yale University, where he taught before coming to Tufts a year ago. PACE, which stands for Psychology of Abilities, Competencies and Expertise, advances the notion of abilities as modifiable and capable of development over a lifetime.
Now Sternberg is taking his scholarship one step further. He has brought PACE to Tufts and has augmented it with a new university-wide program: the Center for the Enhancement of Learning and Teaching (CELT), which will draw on research at PACE.
The first 12 fellows
CELT will help faculty members become better teachers through seminars, newsletters, discussions and workshops. "It's not that we are saying people here don't know how to teach," said Sternberg, who is CELT's director. "The goal is to enhance already good or even excellent teaching skills. We're saying no matter how good you are you can always be better."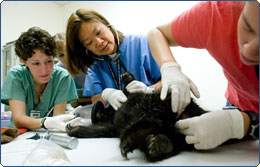 Students bring a variety of analytical, creative and practical abilities to the classrooms of Tufts, including Dr. Flo Tseng's clinical course at the Cummings School. © MELODY KO
The signature program of the new center will be a weekly seminar for faculty fellows led by Molly Mead, the Lincoln Filene Professor at Tisch College, and Linda Jarvin, CELT's deputy director, who did research in psychology and education at Yale before coming to Tufts. A group of 12 fellows from across the university will participate in the first seminar, starting in January. Participants either will be granted a stipend or given a one-course reduction in their teaching loads.
The fellows were chosen from a university-wide pool of 36 applicants, who described challenges they are facing in the classroom. One faculty member wrote that he'd like help in making a dry, fact-based, introductory course more interesting; a second is planning to team teach and wants help in establishing the course.
Sternberg said that while some students learn analytically, others may learn more practically or creatively. The idea, he said, is to "teach kids in varied ways so that at any given time, some are capitalizing on strengths and others are remediating weaknesses. The fellows will be encouraged to use this principle in at least one course they teach. They will bring actual teaching materials to the seminars and see how they can be improved to reach a diversity of learners."
"We're not offering remedial training," Jarvin said. "We're not saying people don't know how to teach and that we have to revamp the system. But we want to offer opportunities to faculty to think about their teaching and to enhance their teaching."
Dual mission
While PACE has been funded primarily with grants, CELT's funding comes from a seed grant from the Office of the Provost as well as a $250,000 grant from the Davis Education Foundation of Falmouth, Maine.
"Our dual mission as a university is teaching and scholarship," said Jamshed Bharucha, provost and senior vice president. "At Tufts we pride ourselves on valuing both. Even as we advance our research and scholarship, we must continue to strive for excellence in teaching and renew ourselves as teachers in light of new research on the process of learning, rapid developments in the fields we teach, changing demographics of our students and new technology." Bharucha said Associate Provost Mary Lee will work on behalf of his office to encourage all campuses to participate in the new center.
Anne Gardulski, associate professor and chair of geology, will be one of the first fellows. She said she sometimes teaches courses of 70 to 125 students and is trying to find ways to better assess students in such a large course.
"One of the huge challenges in such courses is to construct exams or other assessment tools that indeed test what the students have learned," Gardulski said. "Some students can respond well to essay questions, others to short answer tests, and others may have completely different ways of learning that traditional exams cannot evaluate.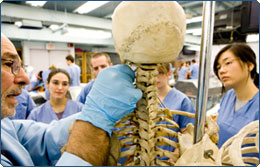 Al-Walid I El-Bermani teaches anatomy to students at the School of Medicine. Two medical school faculty members are among the first group of CELT fellows. © MELODY KO
Classroom creativity
"I am looking for ways to be more creative in devising exams, although there are time constraints imposed by the fact that I do not have teaching assistant or grad student help for grading, thus I cannot offer essay exams," she said. "I also want to ensure that I am requiring students to think about the science. Graphs, maps, charts and other representations of data are an integral part of science, so I feel I need to include these mechanisms for data work on exams. Ultimately, I suspect I will want to modify how I teach so that I can be more creative and develop new ways to assess how students are synthesizing the material."
Louise Maranda, who teaches biostatistics at the Cummings School of Veterinary Medicine, applied for a fellowship, in part, she wrote in her application, to try to find ways to reach students who come into her course with different backgrounds and at different levels. An assistant professor in the Department of Environmental and Population Health, Maranda wrote in her application, "I am constantly grappling with the issue of either losing my students because I assume they know more than they really do or boring my audience to tears by explaining concepts they already understand."
She said she hopes to learn how to assess her students' prior knowledge, how to better develop lecture topics, and "understand the learning process to better develop fun, meaningful and efficient examples, homework and exams."
Jarvin said the center also will serve as a central clearinghouse for information about teaching initiatives. "There really isn't a space for faculty members, especially those who are very committed to their teaching, to reflect on these practices and meet with other faculty to discuss them," she said. Both PACE and CELT are located at 108 Bromfield Street on the Medford/Somerville campus.
Matching styles
Sternberg said the new center is also relevant to the university's new admissions initiative, one of whose goals is to admit diverse learners by assessing students' creative and practical abilities as part of the application process. "Once the learners come, you want to make sure that there is teaching that matches the diverse ways in which they learn," he said.
In addition to Gardulski and Maranda, the first group of fellows includes five professors from the School of Arts and Sciences: Arthur Utz from chemistry, Margaret McMillan from economics, Christina Sharpe from English, Virginia Drachman from history and Francie Chew from biology.
The other fellows are Chris Swan from the School of Engineering, Jennifer Sacheck from the Friedman School, David E. Ricklan and Scott J. Gilbert from the School of Medicine and Alan M. Wachman from the Fletcher School.
Marjorie Howard is a senior writer in Tufts' Office of Publications. She can be reached at marjorie.howard@tufts.edu.