Gridiron history

Jumbos to play 1,000th game on October 14
by Paul Sweeney

The Tufts football team has entered its 132nd season, and in yet another Jumbo milestone, the football team will play its 1,000th game on October 14 at Trinity College in Hartford, Conn.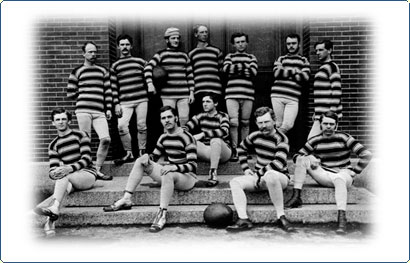 The 1875 football team made history when it played Harvard University in the first intercollegiate contest between two American colleges. PHOTO COURTESY OF UNIVERSITY ARCHIVES
Among the 999 games the Jumbos already have played are some with national significance. Although Tufts is now a member of the New England Small College Athletic Conference (NESCAC), more than a century ago, the team competed against gridiron powerhouses, including Army and Harvard.
Tufts garnered national recognition in 2004 for the historical significance of its game against Harvard at Jarvis Field in Cambridge on June 4, 1875. While most sports historians declare that Rutgers and Princeton played the first intercollegiate football game between two American colleges on November 6, 1869, that game was played with rules similar to today's game of soccer. Players couldn't run with the ball or tackle opponents. Many sports historians believe football as we know it today was developed at Harvard in the 1870s. This game, known as the Boston Game, included catching and running with the ball, keys to the development of the non-soccer type game in America. Tufts won that game against Harvard, 1-0. (At the time, a touchdown counted as one point.)
In conjunction with the publication of Jumbo Footprints: A History of Tufts Athletics, 1852-1999 (Tufts University, 2005), Rocky Carzo, athletics director emeritus, pushed for and received recognition of that historic contest with Harvard. A photograph and description of the 1875 game now hang in the College Football Hall of Fame in South Bend, Ind.
A Tufts vs. Army game in 1913 also stands out because of two players involved. A Jumbo tackler essentially ended the career of promising Army sophomore halfback Dwight D. Eisenhower, who suffered a knee injury that may have changed the course of American history. He became the country's 34th president in 1953. Playing guard for Tufts that day was Clarence "Pop" Houston, who would later write the NCAA's Sanity Code, designed to curb abuses in college sports. Houston went on to serve as Tufts' first director of athletics (1921 to 1948) and also served as president of the NCAA from 1955 to 1957.
Though most Tufts football players go on to successful professional careers outside of the sport, nine Jumbos have roamed the fields of the National Football League. Most notably, defensive lineman Mark Buben, A79, played for the New England Patriots and Cleveland Browns for three seasons. Peter Watson played at tight end for the Bengals in 1972 and went on to a successful career in the Canadian Football League.
William G. "Johnny" Grinnell, A35, a standout at end on both sides of the ball, was inducted posthumously into the College Football Hall of Fame on August 16, 1997, less than two months after his death. He was a member of the first Small College All-America team in 1934, after leading Tufts to an 8-0 season.
In 1976, running back Tim Whelan won the Bulger-Lowe Award as the best player in all of New England after rushing for 1,023 yards and nine touchdowns in eight games. Previous Bulger-Lowe winners include Dick Jauron, now head coach of the Buffalo Bills; Greg Landry, a former NFL quarterback; and Bruce Taylor, who played for the San Francisco 49ers in the 1970s.
In 1979, the football team recorded its third undefeated season in Tufts history, joining the 1927 and 1934 Jumbos. The 2004 campaign marked the 25th anniversary of that team. Current Head Coach Bill Samko was an assistant coach for the '79 Jumbos.
The 2005 Jumbos added to Tufts football history when receiver Brian Von Ancken caught three touchdown passes from quarterback Casey D'Annolfo at Bates on October 1. Remarkably, in 131 seasons of Tufts football, the record for touchdown receptions in a game stood at two prior to that game.
Paul Sweeney is Tufts' sports information director. He can be reached at paul.sweeney@tufts.edu.