Athletics awards
Seven Jumbos honored at Homecoming
On what has become the most special night of the year for Tufts Athletics, seven Jumbos were recognized for their 2005-06 performances September 29 during Homecoming weekend. The Tufts Jumbo Club, which supports athletics at the university, also received the athletics department's Distinguished Achievement Award.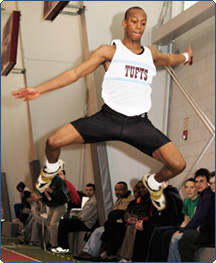 Fred Jones, A07, winner of the Clarence "Pop" Houston Award © BRIAN LOEB
Fred Jones, A07, of the track team received the Clarence "Pop" Houston Award as best male athlete. Jones was the national champion in the triple jump at the NCAA Outdoor Track & Field Championships in May. He broke his own school record with a jump of 49 feet, 7 inches.
The Hester L. Sargent Award for best female athlete went to Ariel Samuelson, A06, of the women's soccer team. Behind Samuelson's stellar play, the soccer team enjoyed one of the most successful seasons in its history. She scored 14 goals with four assists for 32 points, second most in team history. She was selected as a National Soccer Coaches Association of America First Team All-American and as the New England Small College Athletic Conference (NESCAC) Player of the Year. A tri-captain for the Jumbos, she led the conference in scoring.
Recipients of the Rudolph J. Fobert Award as best multi-sport athletes were Catherine Beck, A08, of the cross-country and track teams and Bryan McDavitt, A07, of the football and baseball teams, who also won the Fobert Award last year. Last fall, Beck led cross country to just its second NCAA Championship berth. A national qualifier during the indoor and outdoor track seasons, she capped the year by finishing as the runner-up in the 1,500 meters at the NCAA Outdoor Championships with a school-record time of 4 minutes, 29.08 seconds. She was also the New England Open (all divisions) 1,500 meters champion outdoors and the New England Division III indoor mile champion. McDavitt was second on the Jumbos with 56 tackles and led the team with two interceptions. He also was one of the best players in New England during the baseball season. All-NESCAC and All-New England, he hit .420 with four home runs and 38 RBIs.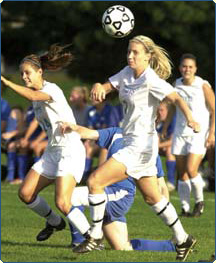 Ariel Samuelson, A06, winner of the Hester L. Sargent Award
Becky Bram, A06, of the tennis team and swimmer Marc Katz, A06, received the W. Murray Kenney awards in recognition of their positive attitude and persistence. Bram was voted the NESCAC Senior Sportswoman of the Year at the conference championships last spring. While Katz did not score any points for the men's swim team that placed 10th at the NCAA Championships in March, his leadership as one of the captains was immeasurable.
Elizabeth Hoffman, A08, a sports editor at the Tufts Daily, received the Timothy J. Horgan Award as the best sportswriter on campus.