Beyond boundaries
Tufts launches $1.2 billion fund-raising campaign
by Laura Ferguson
Tufts has entered the public phase of a $1.2 billion fund-raising campaign, the largest in university history.
Beyond Boundaries: The Campaign for Tufts became official with a celebration November 3 at Boston's Wang Center, where university leaders and key supporters gathered to launch the campaign. The new campaign doubles the goal of Tufts' last capital campaign, which ended in 2002. Across the university's eight schools and three campuses, gifts will strengthen key priorities such as financial aid, endowed professorships, new research facilities and initiatives in citizenship and public service.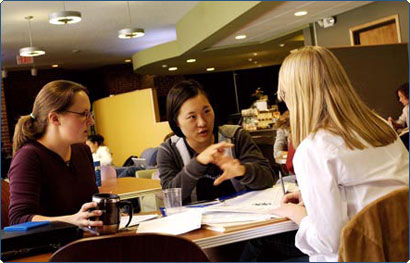 The new campaign will raise $380 million to support the student experience at the university. © MELODY KO
The Alumni Council, the governing board of the Tufts University Alumni Association, enthusiastically endorsed the effort. At the kick-off, President Lawrence S. Bacow announced that council members had resolved to contribute $20 million to the campaign.
Bacow said the campaign takes as its starting point Tufts' long track record of "looking to the horizon" and being unconstrained by traditional notions of study and research. The foundings of schools such as the Fletcher School of Law and Diplomacy, the Friedman School of Nutrition Science and Policy and the Cummings School of Veterinary Medicine, for example, were considered pioneering endeavors, and these schools continue to contribute to the university's reputation as an innovative leader in higher education.
"Today we look out on a world whose signature challenges seem at once urgent and intractable," Bacow said. "But at Tufts, we are finding answers. We have a wonderful pool of talent that spans increasingly interconnected fields. We have a rare culture of collegiality that fosters unexpected collaborations. We have the breadth of understanding that flows naturally from the liberal arts. And we have an attitude—positive, nimble, forward-looking and socially engaged—that makes it possible to face even the most daunting problems with the faith that we can make a difference," the president said.
"Tufts is already making a serious difference in the world," Bacow continued. "Through the resources generated in this ambitious campaign, I know we can do much more. It is humbling to lead an institution of such strength and potential—and thrilling to imagine where we're headed next."
Halfway there
The campaign's "quiet phase" began in July 2002. By the time of the public launch, generous philanthropy had helped raise $615 million—or more than 50 percent of the campaign's total goal.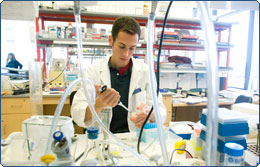 Robert Goldstein, a student in the medical school's combined M.D./Ph.D. program, conducts research on the health sciences campus, where research facilities to support investigations into infectious disease and other issues of importance are a campaign priority. © MELODY KO
Leadership giving during the quiet phase included a $100 million gift from Pierre Omidyar, A88, and Pamela Omidyar, J89, to create the Omidyar-Tufts Microfinance Fund. Fifty percent of the investment income from the fund will be available for Tufts to use in support of both faculty and students, including creating a loan forgiveness program for graduates pursuing careers in public service.
In addition, the university celebrated two naming gifts: $50 million from Cummings Foundation, founded by Trustee Emeritus William Cummings, A58, and his wife, Joyce, to name the Cummings School of Veterinary Medicine, and $40 million from Trustee Jonathan Tisch, A76, to endow the Jonathan M. Tisch College of Citizenship and Public Service.
"Campaigns are usually announced to the public when leadership support has provided a solid financial foundation," said Brian Lee, vice president for University Advancement. "Over the past four years, we've seen record-setting philanthropy across Tufts. The response from alumni, parents and friends alike has been enthusiastic, thoughtful and generous. They have given us the confidence to reach for this campaign's extraordinary goal."
The campaign centers on five key investments:
Supporting the student experience: Recruiting and enrolling talented men and women requires that Tufts grow its financial aid resources. A top priority for the campaign is moving toward "need-blind" admissions at the college level.
Fostering an outstanding faculty: Underwriting endowed professorships and supporting faculty recruitment and development initiatives will help Tufts attract, retain and support the world's leading teachers, scholars and scientists.
Building and enhancing facilities: At the Cummings School on the Grafton campus and the health sciences campus in Boston, plans call for creating campus centers. Other priorities include research facilities to support teams investigating infectious disease and other issues of importance to humans and animals. On the Medford/ Somerville campus, funding will support a number of projects, including the new music center, laboratories and athletic facilities. An integrated research center is also envisioned to encourage scholarship and collaboration between the sciences and engineering.
Supporting academic innovation: A constellation of schools gives Tufts the distinctive strength to pursue cross-disciplinary collaborations that yield exciting insights and world-changing discoveries. Campaign funds will support new and existing academic programs, including "incubating" promising initiatives.
Campaign Goals by Purpose
Endowment: $696M (60%)
Capital: $264M (21%)
Current Use: $240M (19%)
Campaign Goals by Priority
Supporting the Student Experience: $380M
Fostering an Outstanding Faculty: $333M
Physical Infrastructure: $277M
Supporting Academic Innovation: $127M
Annual Support: $83M
Campaign Goals by School
Arts & Sciences: $425M
Engineering: $150M
Fletcher School: $100M
Friedman School: $50M
Dental School: $40M
Medical/Sackler Schools: $225M
Cummings School: $100M
Tisch College: $60M
Cross-University Initiatives: $50M
Growing annual support for current initiatives: Gifts to school annual funds touch the lives of every student and faculty member. They help the university meet annual operating budgets by providing financial aid, support for faculty research and salaries and by making possible countless opportunities for personal and intellectual growth. They also keep Tufts flexible by providing critical resilience against unexpected challenges.
Of the total goal, 60 percent is anticipated to support the Tufts endowment, which now stands at $1.2 billion. A portion of endowment earnings fuels critical and costly academic and research priorities not covered by tuition, such as scholarships and named professorships.
Under the direction of Bacow and Trustee Chairman James Stern, E72, four alumni will co-chair the campaign: Trustee Pierre Omidyar, A88, founder of eBay, and whose Omidyar Network promotes community and community-based planning; Pamela Omidyar, J89, Tisch College board member and co-founder of the Omidyar Network; Trustee Jonathan M. Tisch, A76, chairman and CEO of Loews Hotels; and Trustee Alan Solomont, A70, an innovative leader in health care and national and regional finance chairman for numerous political campaigns.
Laura Ferguson is the associate director of Advancement Communications. She can be reached at laura.ferguson@tufts.edu.