In the hall
1972-73 basketball team earns its just reward
by Paul Sweeney
When the Tufts basketball team was selected as the Most Improved Team in New England for the 1971-72 season, Coach Tom Penders told those gathered at the awards ceremony: "I'm honored, but I hope we never have to accept this award again."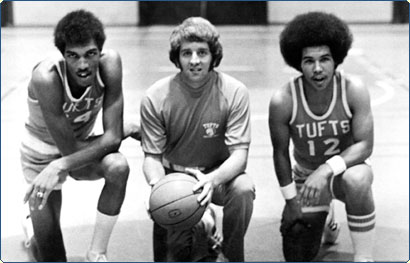 Coach Tom Penders with 1974-74 basketball co-captains Reggie Graham and Eddie Tapscott, both players on the Hall of Fame team. Tapscott was instrumental in developing the Charlotte Bobcats NBA franchise. © UNIVERSITY ARCHIVES
The award recognized the team's rise from a 1-17 finish in 1970-71 to a 12-8 record in 1971-72, and Penders' joke reflected his anticipation that the Jumbo basketball team would not lose enough to receive a "most improved" award again.
Fast forward 34 years. On October 6, the 1972-73 men's basketball team was inducted into the New England Basketball Hall of Fame—proof that Penders, now the head coach at the University of Houston, was right about what he said long ago.
The 1972-73 Jumbos were among several college and high school teams inducted into the hall during ceremonies at the University of Rhode Island's Ryan Center, including the 1954 College of the Holy Cross team that won the National Invitational Tournament (NIT) in 1954. In all, six men's teams and five women's teams were chosen for the 2006 Hall of Fame class.
"They represent a cross-section of the finest in New England basketball and were selected for their impact on the game as well as for their records and talent," said Daniel E. Doyle Jr., executive director of the Institute for International Sport, which administers the New England Basketball Hall of Fame. Also that evening, longtime NBA coach and television commentator Jack Ramsay received the Game's Greatest Teachers Award.
During Penders' second year as head coach, the 1972-73 Jumbos finished with a 22-4 record that set a Tufts record for victories in a season at the time. (The 2005-06 team won 23 games to eclipse the 1972-73 squad from the Tufts record book.) The 1972-73 Jumbos were the ECAC New England Tournament champions, beating Colby, 99-87, and Williams College, 95-89, in double overtime, for the title.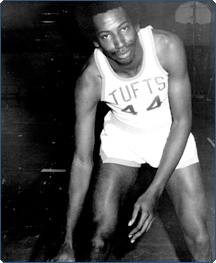 High school phenom Dennis Mink, A75, was heavily recruited by the college basketball powerhouses, but chose Tufts, saying, "I want an education I can use." © UNIVERSITY ARCHIVES
Willie Young led the Jumbos in scoring that year with 21 points per game. Dennis Mink and Reggie Graham were extraordinary big men who both averaged double-digits in points and rebounds. Tufts dominated its opponents on the boards that year, grabbing 53.1 rebounds per game to 38.0 for their opponents.
Eddie Tapscott was the lead playmaker, with 98 assists in 25 games. Leroy Charles was another double-figure scorer (11.9 points per game), and George Powell was another double-figure rebounder (10.3 rebounds per game). Paul Daniels and John White, who would later coach the team, were co-captains.
With many of the same players returning for the 1973-74 season, Penders' last at Tufts, the Jumbos finished 20-6. They remain the lone back-to-back 20-win seasons in Tufts men's basketball history.
Paul Sweeney is Tufts' sports information director. He can be reached at paul.sweeney@tufts.edu.