ADHD intervention
Researchers will test parenting education program in pediatric practices
by Jacqueline Mitchell
Most toddlers go through the "terrible twos," the developmental stage marked by temper tantrums, willfulness and aggression. But researchers have found that children with significant behavioral problems at this young age are at increased risk of developing Attention Deficit Hyperactivity Disorder (ADHD) later on.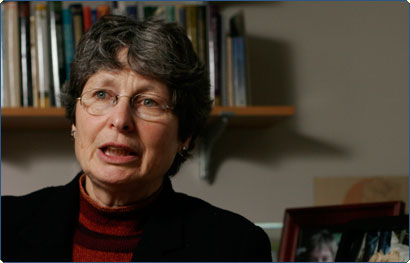 Dr. Ellen C. Perrin and her research team will determine if educating parents of toddlers with significant behavior problems can prevent an ADHD diagnosis later on. © JODI HILTON
Researchers at the Floating Hospital for Children are evaluating one possible intervention. By teaching parents of at-risk toddlers advanced parenting strategies, they hope to improve children's behavior problems at a young age, thereby reducing their risk of developing ADHD or another behavior problem, Oppositional Defiant Disorder, characterized by uncooperative and hostile behavior.
With the support of a $3.3 million grant from the National Institute of Mental Health, Dr. Ellen C. Perrin, professor of pediatrics at Tufts, and her colleagues will evaluate the effectiveness of their Advanced Parenting Education Program in nine pediatric practices and three urban health centers in eastern Massachusetts. Pediatricians will give parents a short questionnaire to screen their two- and three-year-olds for elevated impulsivity, aggression, oppositionality (willfulness) and diminished attention.
Nascent evidence
"We're not making any diagnoses," says Perrin, director of the Floating Hospital's Division of Developmental-Behavioral Pediatrics and of the Center for Children with Special Needs. "We're screening for early evidence of the kinds of behavior that eventually might lead to a diagnosis" of ADHD or Oppositional Defiant Disorder (ODD).
Parents of kids with these behaviors will be invited to join a parenting education program. Based on the well-tested "Incredible Years" program developed by psychologist Carolyn Webster-Stratton, the education program gives parents guidelines for reducing their children's aggression and behavior problems and increasing their social competence. Though Incredible Years has a proven track record, it's never been tested in clinical pediatric settings or with children at such a young age.
The parenting groups will meet for two hours each week at the pediatric offices where two instructors—one a member of Perrin's team, one an office employee—will present the course in 10 sessions. To measure parents' success with the program, they will fill out self-assessment forms, and three times during the 10 sessions, they will be video-taped interacting with their children under a set of structured circumstances. "It's a snapshot, but it does seem to represent the reality of children's interactions with their parents," says R. Christopher Sheldrick, assistant professor of pediatrics and the project's primary co-investigator.
The power of the group
To perfect the methodology for the trial, Perrin's team conducted a three-year feasibility study in one suburban practice and one urban health center. Jannette McMenamy, assistant professor of behavioral science at Fitchburg State College, helped design the original project and instructed one of the parenting groups in Leominster, Mass. "I'm completely amazed by the power of the group," says McMenamy, who remains involved in the project as a co-investigator. "The whole equals more than the sum of its parts. When [parents] meet other parents in the same boat, the stigma decreases; the anxiety and the stress decrease."
The research team also hopes to demonstrate that the program decreases the economic burden of ADHD and other disruptive behavior problems on the health-care system. Though statistics vary widely, the National Institute of Mental Health estimates that ADHD affects five to 10 percent of children. That's some two million American school kids, or about one child in every classroom in the country.
"Our belief is there could be some savings," says Perrin, who believes that parents who have gone through the program will be less likely to seek mental health counseling for their children. There is evidence that depressed and distressed parents take their children to hospital emergency rooms and the doctor more often than parents who are more content and have better support systems.
Though the researchers acknowledge that maintaining the program after the study will incur some cost to the pediatric practices—while saving parents and insurers money—their hope is that the educational model will remain in the pediatric practices long after the five-year study ends. "Anybody can do this. It's not magic," Perrin says, noting that the program is designed so that when the study is completed, the pediatric practices "can do these [parenting] groups just as we do them. This is an additional service that these pediatricians will be able to offer their patients."
If the parenting education program is successful, Perrin hopes public funding or insurance reimbursement will make it economically viable in pediatric practice. But the team's main goal is to learn whether parent education alleviates—and possibly even staves off—the impairments kids with ADHD and ODD experience.
"In our dream world," Perrin says, "we would get another grant in a few years that would allow us to follow children into elementary school to see if they are less likely to end up with a behavioral diagnosis down the road."
Jacqueline Mitchell is a senior health sciences writer in Tufts' Office of Publications. She can be reached at jacqueline.mitchell@tufts.edu.