Music maverick
In the world of synthesizers (and airplane propellers), Lehrman is the man
by Marjorie Howard
When Paul Lehrman was a high school student in New York, he played in rock-and-roll bands. He also tinkered around with amplifiers and occasionally blew them up. He's still tinkering. And he's still blowing things up, but now those explosions are metaphorical.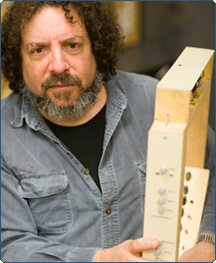 © MELODY KO
The shaggy-haired and bearded Lehrman looks like what he is: a musician who specializes in cutting-edge electronic music. But he's no wild man of music. The Tufts faculty member is a respected author and composer whose most recent success is the revival of an 80-year-old work composed at a time when the technology wasn't available to perform it as the composer envisioned.
He continues to explore technology and music. He has a new book, published in October, called The Insider Audio Bathroom Reader (Artistpro), which is a compilation of his columns from Mix magazine, a publication for the professional recording and sound production industry. Also in October, he presented a paper at the Audio Engineering Society's 121st convention in San Francisco. At Tufts, he teaches a course that attracts students from across the spectrum—music, engineering and computer science.
Part-scholar, part-performer and writer and always unconventional, it's no coincidence that three years ago, Lehrman was interviewed for "American Mavericks," a radio show produced by American Public Media. The maverick could refer to Lehrman, but in this case it was George Antheil, the self-proclaimed "bad boy of music," who in 1924 wrote "Ballet Mecanique," which was so far ahead if its time that it could not be properly performed.
All-robot performance
In 1998, Antheil's publisher, G. Schirmer, asked Lehrman to revive the work. The piece calls for eight percussionists, two pianists, a siren, a rack of electric bells, three airplane propellers and 16 synchronized player pianos. The problem was that the technology to synchronize multiple player pianos didn't exist in Antheil's day. Thanks to Lehrman, audiences finally heard Antheil's piece as it was intended. Last spring "Ballet Mecanique" was performed at the National Gallery in Washington, D.C., by an all-robot ensemble. The show was so popular that its run was extended. The Washington Post called it "the best 10 minutes of free fun in Washington."
Lehrman helped make a documentary about the experience, "Bad Boy Made Good," which has been broadcast on public television and is now available on DVD. The film started out as a project of the Tufts Video Lab under the direction of Howard Woolf, co-director of multimedia arts at Tufts.
Lehrman began studying piano at the age of 5, and at one point, he claims he could play 17 instruments in an array of styles: rock, folk, jazz and classical. He even sang solos in choirs. But he was always interested in the off-beat.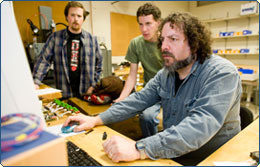 © MELODY KO
As a teenager, he ordered a kit to build a theremin, one of the earliest electronic instruments. He went to Columbia University to study electronic music, but left, in part, because he realized it was not financially viable to produce electronic music on his own because of the high cost of the equipment. Instead he earned a music performance degree as a bassoonist at the State University of New York at Purchase.
Gradually, the electronic music world changed. By the mid-1970s, electronic synthesizers had become portable enough to take on the road, and electronic music had started to invade rock-and-roll. Frank Zappa was influenced by Edgar Varese, the Beatles by Stockhausen. Jimi Hendrix, the Grateful Dead and the Jefferson Airplane added to the electronic mix as did Emerson, Lake and Palmer and the Who—all of whom began using electronic music techniques and synthesizers in their music.
Life-changing MIDI
After spending some years in the Boston area writing about music for local newspapers and trade journals, Lehrman was assigned to review a musical system that ran on an Apple II computer. He discovered that "technology had caught up with me. I could get a desk-top computer system for music that didn't cost 10 years' salary."
In 1983, the Musical Instrument Digital Interface, better known as MIDI, was invented. MIDI is a computer language that lets electronic musical instruments talk to each other. It changed Lehrman's life, and he has been composing electronic music for the last 20 years using only computers. His book, MIDI for the Professional (Music Sales Corp.) is considered the standard college-level textbook. He since has earned a master's degree in music technology from Lesley University and is working on a Ph.D. at Tufts on the history of multimedia.
Multidisciplinary instrument makers
At Tufts, he teaches a course on designing computer-based musical instruments that draws students not only from the music department, but from computer science, electrical engineering, mechanical engineering and the Museum School.
He rummaged around in a large metal cabinet in his lab in Bray Hall and pulled out a wooden harp with no strings; the instrument uses laser beams to send signals to a computer that produces sounds. "Here's another one," said Lehrman, reaching for a glove. Sensors in the glove measure how the wearer moves his fingers. Each sensor controls the pitch, volume, timbre or tempo of the music as it is generated by the computer.
To make these instruments, Lehrman's students work in teams, with the goal of having people from different disciplines represented on each team. "You need people who can work with wood, metal and plastic, and people who can work with electronics," he said. "And you need musicians and computer people. No one person has all the necessary skills."
Marjorie Howard is a senior writer in Tufts' Office of Publications. She can be reached at marjorie.howard@tufts.edu.