A&S town meeting
Undergraduates seek a better social life
Fifty members of the Arts & Sciences community—half of them students, the other half faculty and staff—talked about issues ranging from campus social life to figuring out what courses to take for a particular major during the first Arts & Sciences Town Meeting.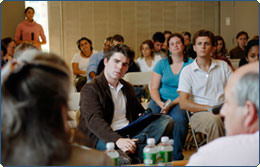 Students comprised half the audience at the first Arts & Sciences Town Meeting. © JODI HILTON
Robert Sternberg, dean of the School of Arts & Sciences, has initiated a series of town meetings aimed at allowing the community to discuss a topical issue affecting students, faculty and staff.
The first session took place on October 3 in the function room of the new Sophia Gordon Hall dormitory. The scheduled topic was the intellectual life on campus in the context of the freshman-year experience. But many of the students took the opportunity to address a wide range of concerns, from dormitory life to course requirements. Several said social life on campus needs some help.
Students addressed their concerns to a panel that included Sternberg as well as Lee Coffin, dean of undergraduate admissions; James Glaser, dean of undergraduate education; Bruce Reitman, dean of student affairs; and Jean Herbert, associate dean of undergraduate education.
Studying
To a student who said she had difficulty finding out what courses are required for her major, Glaser said that the new online Degree Auditing and Reporting System (DARS) tracks a student's progress toward a degree and toward fulfilling general requirements, allowing both students and advisors to see what is needed. He also said that a searchable database containing more complete course descriptions will soon be available.
Padden Murphy, A09, said his first-year advisor is in a field unrelated to what he wants to major in and asked why students couldn't be matched with faculty from their field. Herbert responded that all faculty are able to serve as mentors to students and noted that students often change their minds about majors. The goal, she said, is an ongoing relationship between faculty and students, no matter what the major.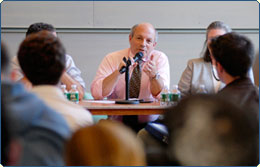 Dean of Student Affairs Bruce Reitman said that "social venues, particularly mingling space, are at a premium on campus." © JODI HILTON
Sternberg noted his own first-year advisor as an undergraduate was in history, although he was a psychology major. "Tufts is an informal kind of place," he said. "One thing you can do is find faculty with whom you have an affinity and seek advice and mentorship from them."
Living
Some students said they enjoyed living in themed housing; others said they liked having a faculty member living among students—a concept that has been expanded as a result of the work of the Task Force on the Undergraduate Experience, which was charged with making recommendations to improve the intellectual and social climate for undergraduates.
The discussion shifted to campus social life, with one student pointing out that shutting down some fraternities "has created a void." Reitman acknowledged that "social venues, particularly mingling space, are at a premium on campus."
Only two staff members raised issues. Laurie Sabol, a librarian at Tisch Library, said the library staff offers a program for freshman on how to use the facility but would like to offer even more training. David O'Leary, the university chaplain, said it is difficult to get students to attend lectures and other events on campus. Part of the problem, he said, is having multiple events scheduled at the same time.