Let's dance
Tufts ensembles stage winter performances in December
The Tufts Performance Ensembles will perform two new companion dances, "Close" and "Far," on December 2 and 3 in the newly renovated Jackson Dance Lab on the Medford/Somerville campus.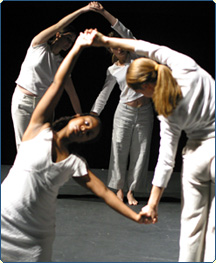 The Tufts Performance Ensemble in concert © RICHARD FELDMAN
Acclaimed choreographer Daniel McCusker, lecturer in dance, explores intersections and contrasts between his material and the performers' solutions to movement problems. Two very different contemporary dances result from these creative strategies and movements. Each dance will be performed with a string quartet, one to a new score composed by music graduate student Elliot Cless.
Multi-layered action and rhythmic play also contribute to the non-narrative field of design seen in each piece of choreography. Instead of mirroring the music structure, the chance connection of the music and dance reveal moments of beauty where we might least expect them. The dances have no hidden meanings; nevertheless, they display an interest in the question of how one arrives at meaning in art and in life. The dancing body with its own compelling intelligence is the starting point for these dances.
Performances are at 8 p.m. on December 2 and at 4 and 8 p.m. on December 3. Due to limited seating, free tickets are provided and may be obtained by calling 617-627-2556.