Best paper
Chemical engineer honored as a leader in his discipline
Kyongbum Lee, an assistant professor in the Department of Chemical and Biological Engineering, has been chosen to receive the Jay Bailey Young Investigator Best Paper Award in Metabolic Engineering. The award was established in honor of Bailey, a contributor to the founding and advancement of the field of metabolic engineering.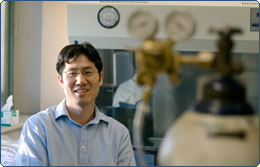 Kyongbum Lee © MELODY KO
Lee received the award for his article, "Identification of Distributed Metabolic Objectives in the Hypermetabolic Liver by Flux and Energy Balance Analysis," which appeared in the January 2006 issue of Metabolic Engineering. The article garnered praise for contributing to significant advances in the field. Lee's analysis "is the first to explicitly account for the energetic coupling between reactions" and demonstrates that he is "poised to become a leader in our discipline," wrote Dr. Martin L. Yarmush, the Helen Andrus Benedict Professor of Surgery and Bioengineering at Harvard Medical School, who sponsored Lee's nomination for the award.
David Kaplan, professor and chair of biomedical engineering at Tufts and a frequent research collaborator with Lee, wrote, "I cannot think of a better person who is able to integrate metabolic engineering into biomaterials research."