New leader
Cummings School dean known as an inspiring educator
Following a nationwide search, Tufts has appointed Dr. Deborah Turner Kochevar as the fourth dean of the Cummings School of Veterinary Medicine. She starts her new job on August 1.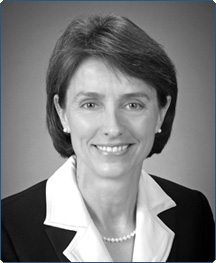 Dr. Deborah Turner Kochevar © LARRY WADSWORTH

Board-certified by the American College of Veterinary Clinical Pharmacology, Kochevar is widely respected as a leader in veterinary medicine, an inspirational teacher and a scientist.

"The students, faculty and staff at the Cummings School are among the best in the nation," Kochevar said. "I am thrilled to serve as dean for such a dedicated and talented group. From its beginning in 1978, the school has served as a model for progressive and innovative scholarly activity. I hope to nurture and expand those traditions to the benefit of the school and the veterinary profession."

'Superb teacher and scholar'
Kochevar is currently associate dean for professional programs and holds the Wiley Chair of Veterinary Medical Education at Texas A&M University's College of Veterinary Medicine and Biomedical Sciences. She also is a professor of veterinary physiology and pharmacology at the College of Veterinary Medicine, with a joint appointment in medical physiology. She has been on the faculty at Texas A&M since 1987 and served two stints as acting veterinary dean in 2004 and 2005.

"I'm excited about having Dr. Kochevar join our senior academic leadership team," Tufts President Lawrence S. Bacow said. "Not only will she be an outstanding dean of the Cummings School, she also will have much to contribute to the entire university. She has enormous energy and is a superb teacher and scholar."

Kochevar graduated Phi Beta Kappa with a B.A. in English and biology from Rice University in 1978. She received a doctor of veterinary medicine degree from Texas A&M University in 1981, and a postdoctoral degree in cellular and molecular biology from the University of Texas Southwestern Medical Center in 1987. In the mid-1990s, she spent a year in Washington, D.C., as a Congressional Science Fellow with the Senate Labor and Human Resources Committee.

Heralded as an inspiring mentor to her students, Kochevar has won many teaching awards, including the Norden Distinguished Teacher Award, the Student American Veterinary Medical Association National Teaching Award in Basic Science and the Former Students Distinguished Achievement Award in Teaching at Texas A&M. She has received numerous grants for education and curriculum development and participated in educational outreach projects funded by the National Institute of Environmental Health Science.

Kochevar's research focuses on pharmacology and cellular and molecular biology. Her work has been funded by the American Heart Association, the U.S. Department of Agriculture and corporate sponsors.

"After a comprehensive national search, I am delighted that we've hired the best candidate in the country," said Tufts Provost and Senior Vice President Jamshed Bharucha. "Dr. Kochevar is passionate about research and teaching and is the perfect leader to take our veterinary school into the future, building on the successes of former Dean Phil Kosch and Interim Dean Sawkat Anwer."

Kochevar is president of the American College of Veterinary Clinical Pharmacology and is active in the American Veterinary Medical Association (AVMA), having chaired its Council on Education and the Educational Commission for Foreign Veterinary Graduates. As a member and vice chair of the AVMA Council on Research, she also served on the editorial board of the American Journal of Veterinary Research.

The committee charged with finding the best candidate to lead New England's only veterinary school was composed of faculty, students and staff. The committee began its search in June 2005, after Kosch announced his decision to take a one-year sabbatical before returning to Tufts to assist the Provost's Office with special research projects.