Admissions pilot
Amplified application will provide additional cues about prospective students
by Helene Ragovin
With an eye toward furthering the intellectual curiosity of undergraduates in the School of Arts & Sciences, Tufts University is planning to test pilot some innovative changes to the application for admission.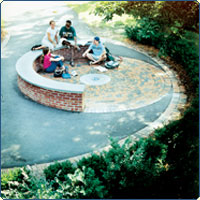 Students seeking admission to the Class of 2011 in the School of Arts & Sciences will have the option of completing an amplified application designed to provide additional insights into their candidacies. © MELODY KO

The admissions initiative grew out of the research of Robert Sternberg, who was appointed dean of Arts & Sciences last fall. In work known as the Rainbow Project, Sternberg, a psychologist, has developed methods of assessing students' creative and practical abilities to better predict how well they will do in college and to create more equity in the admissions process.

"It's called 'Rainbow' because it looks at diverse abilities and different bands of the spectrum," Sternberg said. "The goal is not to replace the SAT but to supplement it."

"The plan is to introduce—in a pilot form—elements of Dean Sternberg's 'Rainbow test' to the admissions process" for the Arts & Sciences students who will enter Tufts in September 2007, said Lee Coffin, dean of undergraduate admissions.

During the next few months, Coffin, Sternberg and others will create supplemental admissions materials unique to Tufts. Students seeking admission to the Class of 2011 will have the option of completing the additional material along with the required "standard application."

For example, Coffin said, candidates may be asked to write a caption for a New Yorker-style cartoon, or a short story based on an intriguing title or an essay on an unconventional topic. Another option being considered is to revise the questions that high school teachers are asked to address when writing student recommendations.

Achievement still reigns
Both Sternberg and Coffin stressed that these new methods of assessing students' abilities will never overshadow the importance of standardized test scores and grades in making admissions decisions at Tufts.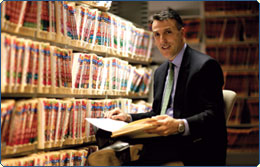 Lee Coffin, dean of undergraduate admissions © MELODY KO

"Academic achievement has been—and will remain—the most important part of the process," Coffin said. "Any introduction of new elements will help us learn more about that pool [of qualified students]. We are not going to leave out high academic-achieving students and replace them with less academic-achieving, but more creative students," he said. The new materials, he said, will provide "additional indices" on which to evaluate candidates for admission.

"The people who were at the top of the admissions stack before will stay at the top of the stack," Sternberg said. "The people who were at the bottom will remain at the bottom. The new assessments will be most useful, we believe, for students in the middle—for whom it is not clear whether the decision should be to admit or not."

Consider, for instance, the idea of having applicants write a cartoon caption. "I imagine some students will hit a home run with that," Coffin said. "And I imagine we'll have some valedictorians who will struggle with it. We're still going to take the valedictorian.

"The mid-level candidates, that's where we're most selective in our admissions practices," Coffin said. "The introduction of the Rainbow test gives us added ways to sort that group, but it's still very subjective."

Types of intelligence
Sternberg's research examines three types of "intelligence" that can be predictors of success: analytical, creative and practical. Analytical skills are those that are most rewarded in the American educational system and that are best reflected in the SAT or ACT, the existing standardized tests high school students take as part of the college admissions process. However, those who are gifted in other areas, such as creative or practical thinking or artistic expression, can excel in college and in life, Sternberg said.

It is also hoped the amplified admissions materials can help increase the diversity of the undergraduate student body at Tufts. As a group, African-American and Latino students do not tend to do as well on the SAT as white or Asian-American students, Coffin said. "The Rainbow questions are another way of looking at those applicants," he said. "They can help us, I hope, increase the representation in our class."

This past year, the Office of Undergraduate Admissions received 15,291 applications from prospective students for the Class of 2010. Acceptance letters were sent out to 26 percent of them.

The idea of using Tufts-specific material on the admissions application is not new to the university. Applicants for the class that will matriculate this fall were offered the chance to respond to any of four optional essays, which were designed to showcase their intellectual curiosity, creativity and personal background, Coffin said.

"We were using elements of the Rainbow Project without knowing it," Coffin said. The essays asked students to pretend they were at their retirement party and to reflect on what they hoped their legacy of active citizenship would be; to write a newspaper editorial about an overlooked issue; to talk about the three books they considered essential to their personal libraries or to explain how they "self-identified."

"It's another way of debating their contributions to the undergraduate community," Coffin said. "Those are the kind of questions you would see on a Rainbow test." The essays were added to the Tufts application as a result of the work of the Task Force on the Undergraduate Experience, which sought ways to increase the sense of intellectual vigor and energy on campus, Coffin said.

Helene Ragovin is a senior writer in Tufts Office of Publications. She can be reached at helene.ragovin@tufts.edu.