Guggenheim Fellow
Fletcher professor to study post-war trauma in Africa
by Terry Ann Knopf
Peter Uvin, professor of international humanitarian studies and director of the Institute of Human Security at the Fletcher School, is among the winners of the prestigious Guggenheim Fellowship for 2006. He was selected on the basis of his research proposal that will examine Burundi's post-civil war agenda from the local perspective.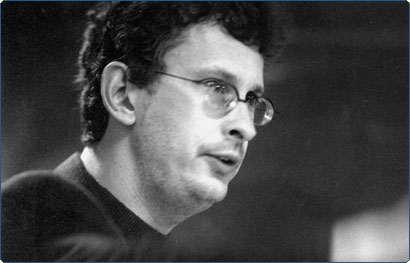 Peter Uvin © LEN RUBINSTEIN

This year's 2006 fellowship winners include 187 artists, scholars and scientists selected from almost 3,000 applicants for awards totaling $7.5 million.

Uvin will leave for Burundi in May. "I am honored by the award. And it's also nice to get money that I can use as I see fit. It's difficult to predict costs for a developing country. I'll be living in Bujumbura, the capital of Burundi, and spend half of my time in the provinces."

The meaning of peace
His research and writing will have several components. One is the effect of "peace" on people's lives. "The international community declares a country at peace, sure. But what does peace actually mean to local people?" he asked. "Does it make a big difference to them? How does it impact their lives? How do they see life evolve afterward? What do they dream of? What do they do about that?"

Another component is the extent to which the international donor community is of use to the people—or not. "I want to see whether they received aid from any agency or project and whether it was expected or hoped for," Uvin said. "And I want to determine whether they share what the international system seeks to do in their country and find out what ideas they have on how they can do better."

Part of Uvin's work also will be funded by the World Bank. He will collaborate with Marc Sommers, associate research professor of humanitarian studies at Fletcher, who will undertake a similar research effort in Rwanda.

Uvin has hired Kim Howe, a Fletcher student who is a licensed therapist, to work on the project. "Kim has worked for years with refugees from Burundi and Rwanda and has deep experience dealing with trauma resulting from violence, torture and insecurity," he said.

Looking ahead
Uvin stressed the importance of sensitivity in dealing with people who have suffered the traumatic effects of war. "The research focus is not about digging into past traumas but about understanding how people look at the future and past issues that will come up in such discussions," he said. "Kim [Howe] will train Marc Sommers and me as well as the one or two translators we will hire on how to cope with such situations and how to provide some immediate help to people."

Uvin and his team will also collect information on support that may be available to hospitals, churches and NGOs. "Burundi and Rwanda are two of the 10 poorest countries on the Earth, with less than a handful of psychologists. But there are support and discussion groups, religiously based and not," he said.

Burundi has emerged from a decade of civil war that started in 1993. A set of peace agreements was signed between 2001 and 2004, leading to a transition during which rebels disarmed, elections were prepared and a constitution drawn up. The country is now officially designated as "post-conflict" in international parlance.

Similarly, Rwanda has had a stable government since the 1994 genocide. It is rebuilding state institutions, public infrastructures, social services, a functioning economy and, hopefully, a sense of community. It, too, is a post-conflict country.