Game on
'Small Ball' introduces young players to field of dreams
by Paul Sweeney
Spring is here, and young baseball players across the country have taken to the field, relying on volunteer adult coaches to impart important early lessons on how to play the game.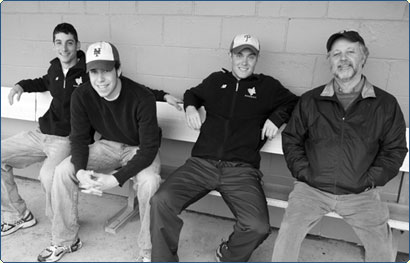 From left, Tufts authors and baseball players Greg Chertok, Jake Lipton and Erik Johanson with Prof. George Scarlett © MELODY KO

A group of baseball devotees at Tufts, including players on the varsity team, is working to help adults coach children more effectively. George Scarlett, deputy chair of the Eliot-Pearson Department of Child Development, is collaborating with Tufts seniors Greg Chertok, Erik Johanson, Jake Lipton and Christina Palermo to write "the best book ever for youth baseball coaches."

"The coaches are often dads who have had no formal training in either coaching or teaching and whose experience playing baseball is not likely to have left them competent to teach baseball to children," Scarlett said. "We came to realize that if children are to learn to love baseball, they need to be taught well how to field, hit, pitch and run the bases."

The group is writing a textbook, Small Ball: Coaching Youth Baseball, which presents a more complete and compelling approach to coaching a youth team. They began last fall by compiling their own knowledge and comparing it with other books and videos on coaching—many of which are aimed at coaches of high school-aged players. What will distinguish Small Ball from other coaching books, the authors say, is a stronger emphasis on all aspects of coaching—fundamentals, managing games and practices, mental attributes, off-field situations. Creative metaphors, such as comparing the swing of the bat to the pull and release of a rubber band, are key components of the teaching process in the book, which will be completed this summer.

Beyond the W-L
"Being a successful coach is defined by more than coaching a team that wins, especially at the youth level," Johanson said. "Every aspect of a player's development needs to be considered. Our book tries to deal with these issues by presenting a series of instructions, drills and helpful tips that are applicable to the developmental abilities of youth baseball players." The book will be accompanied by a visual component on CD, created with the help of Elizabeth Pufall, a doctoral student in child development.

Small Ball is a labor of love. Scarlett, who has four decades of experience as a developmental psychologist, is only slightly less passionate about baseball, which he played through high school.

Chertok, the starting shortstop on the Tufts baseball team, wrote a chapter on playing in the field. Johanson used his experience as a relief pitcher for the Jumbos to compose the pitching chapter.

Lipton, who was a member of the Tufts team for two years, writes about hitting and base running. Palermo played junior varsity baseball in high school and contributes a section on gender issues.

The mental game
"It's a unique experience for us," said Chertok, who did research for Scarlett's chapter in the textbook Children's Play (Sage, 2004) and recruited Johanson and Lipton for the baseball project. "We've all written literature papers, psychology papers. With 16 to 17 years of knowledge from playing baseball all our lives, the opportunity to convey it to people is very satisfying," he said.

For Chertok and Johanson, in particular, their experiences on the Tufts baseball team under Coach John Casey provided a framework for their writing. One of Casey's coaching philosophies—"confidence is borne with demonstrated ability"—is a theme throughout the book.

"It's hard to teach confidence," Lipton said. "The mental part of playing baseball is a very important part. Our goal is to have the kids learn how to play baseball the right way, and from that, they will gain the confidence that they need."

In a broader sense, the group hopes properly teaching children to play baseball can enrich their lives.

"Each of us loves the game and has been worried about the ability of youth baseball organizations to provide great experiences for children," Scarlett said. "Central to our perspective on youth baseball is that its aim should be to help children learn to love baseball. Loving baseball is for a lifetime. And there is something deep about loving baseball that is about the human spirit."

Paul Sweeney is director of sports information at Tufts. He can be reached at paul.sweeney@tufts.edu.