Top of the morning
Alumna will co-anchor 'Today' show
Eight-time Emmy winner Meredith Vieira, J75, will co-anchor NBC's top-rated morning show, "Today," starting in September.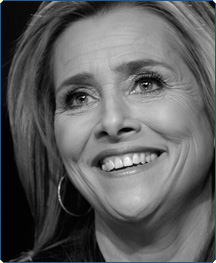 Meredith Vieira © RICHARD DREW/AP PHOTO
"Not only is the 'Today' show a great program within a superb news organization, it's also where America turns to begin the day," said Vieira, who will replace Katie Couric, who's jumping networks to anchor the CBS Evening News.
Vieira has been moderator of ABC's "The View" since the show went on the air in 1997, and has hosted "Who Wants to Be a Millionaire" since 2002. She spent more than a decade at CBS News, where she garnered five Emmy Awards for her work as a correspondent on the top-ranking news magazines "60 Minutes" and "West 57th."
Vieira also frequently anchored the CBS Morning News and was contributing national correspondent on the CBS Evening News with Dan Rather. Before joining CBS News, she was a reporter for three years for the CBS-owned television station in New York City. She was a reporter and anchor at WJAR-TV in Providence, R.I., and began her career as a news announcer for WORC radio in Worcester, Mass., after she graduated from Tufts in 1975.