Global citizens
Winter break offers students lessons around the world
by Marjorie Howard
For three groups of students, winter break was not your normal visit to the family. A journey along the winding roads of southeast Turkey, visits to the slums of Buenos Aires and travel through an African nation stricken by genocide were on the January agenda instead.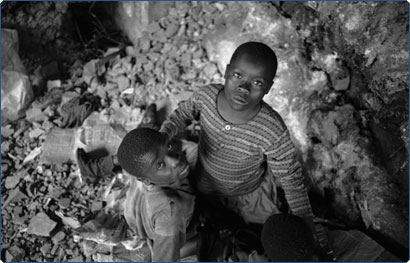 Two boys look up from their home in the gutted basement of one of the dozens of buildings destroyed four years ago during the eruption of Mount Nyiragongo, one of eight volcanoes scattered along the borders of Rwanda, Congo and Uganda. The photographer, Nicki Sobecki, A08, was one of five Tufts students who traveled to Rwanda in January to assess how that nation is recovering from the 1994 genocide, when nearly 1 million people were slaughtered. Rwanda was just one winter-break destination for Tufts students. © NICKI SOBECKI
Traveling under the auspices of the Institute for Global Leadership (IGL), a total of 25 students made their own arrangements, raised money and spent hours in preparation to meet with politicians, academicians and non-governmental organizations to learn more about the countries they were visiting. Each student will prepare a research project on their international experience. The IGL oversees a range of programs aimed at preparing students to become effective and ethical leaders by becoming engaged in research, internships, workshops and travel.
In Argentina, students photographed and wrote about a society still recovering from a lengthy dictatorship as well as an economic crisis. In Rwanda, participants focused on the reconstruction and social reconciliation efforts taking place in the wake of the 1994 genocide. In Turkey, they observed what happens to a society under pressure, in this case by the European Union, which is placing constraints on the nation's efforts to join the federation.
Nine students participated in round-the-clock work in Buenos Aires, taking photographs, writing articles and meeting deadlines imposed by two mentors who joined them in what one of the students described as an exhausting and exhilarating experience.
Sarah Arkin, a senior majoring in international relations, said the eight-day program was conducted by VII photographer Gary Knight and Mort Rosenblum, a former Associated Press correspondent and International Herald Tribune editor.
Politics of fear
"We went to Argentina to see the recovery of a society, one that had been consumed by dictatorship and fear, and also the recovery from the economic crisis of 2001," she said. "We all went with individual aspects, looking at the legacy of the Dirty War under the dictatorship and the politics of fear," which was the topic of this year's IGL Education for Public Inquiry and International Citizenship (EPIIC) symposium at Tufts in February.
Arkin is one of the founders of EXPOSURE, a student group run under the auspices of the IGL, which sponsored the workshop. EXPOSURE helps train students in photojournalism and the making of documentaries with the goal of advancing the cause of human rights. "We use photography and look at its impact on human rights as a window into the world," said Arkin.
The Recovered Wages movement holds a protest in front of a Buenos Aires hotel. When Argentina's economy collapsed in 2001, hundreds of hotel staffers lost their jobs and were never paid for time they worked. To this day, they protest for wages they never received. © SARAH ARKIN
The eight-day trip to Argentina involved seven undergraduates, a student from the Fletcher School and a Tufts staff member. Student projects included examining current politics, photographing slums and meeting with the Mothers of the Plaza de Mayo, the women who used to protest the disappearance of their sons and daughters during the dictatorship. "They are still protesting today to get more information and to get the government to apologize and to acknowledge the Dirty War," said Arkin.
Negar Razavi, a senior majoring in history and peace and justice studies, traveled to Turkey for 16 days with 11 other students as part of the New Initiative for Middle East Peace, an organization also under the auspices of the IGL.
"Each year we sponsor a trip to the Middle East so students can do research and also focus on a topic and meet with a range of experts, academics and politicians to get an idea of what that society is like," she said. Previous trips have been to the West Bank, Iran, Israel and Egypt.
Turkey wants to be a part of the European Union, said Razavi. But, she explained, because of EU restrictions, the country is facing challenges and being asked to make societal changes.
"There are three themes we looked at," she said. "We examined the role of Islam in modern Turkish society; the European Union acceptance process, which is quite long; and we looked at Turkish foreign politics regarding the Kurds."
One of the students is making a documentary, while the rest will write research papers. Razavi's paper will be on feminism and political Islam and how women are fighting for their rights within a religious context.
One unforgettable experience, she said, was when the group was unable to leave southeast Turkey by plane because of poor weather conditions. The group hired a bus and embarked on a 14-hour ride along twisty, windy roads. The students and their tour leader stayed up all night to make sure the bus driver remained awake.
The aftermath of genocide
Jessica Berlin, a sophomore from Seattle, traveled to Rwanda for 15 days with four other students to examine some of the consequences of the genocide that took place in 1994.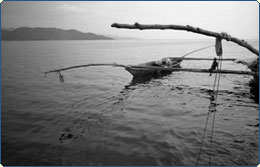 A Rwandan child sits on a fishing boat owned by his father. The family relies on their daily catch both to eat and sell, the profits of which are used to provide other basic necessities. © NICKI SOBECKI
"I've always been interested in issues of peace-keeping and human rights, particularly in post-conflict zones," she said. Berlin said her father is German, and her mother is Korean-American, so issues of genocide and war are of enormous interest to her. "I can't remember not knowing about World War II because it tore apart my family on my father's side."
Berlin said the students saw that Rwanda is still traumatized by the genocide that probably was made best known by the movie "Hotel Rwanda," which told the story of Paul Rusesabagina, a hotel manager who saved many lives by sheltering refugees at the hotel where he worked. Rusesabagina spoke at Tufts in November.
"So many people lost family members, children, husbands, wives, parents, siblings. Imagine that happening in the United States to one family," Berlin said.
Berlin said that for an incredibly poor country with development, education and health problems, there is also an "overwhelming psychological burden to bear." Yet, she said, she learned that "a country can pick itself up, life goes on and the war has ended, though it's severely traumatized."
Berlin said the experience was invaluable. "We prepared a lot before going so we were all very familiar with the history of the country and as familiar with the society as one can be through books. But reading about a place and a people can't compare with the experience of actually going...It's important for students to gain real-world experience so when we enter the world as professionals, we know that there are no easy answers, just as there are no easy questions."
Marjorie Howard is a senior writer in Tufts' Office of Publications. She can be reached at marjorie.howard@tufts.edu.