Going up
Construction on dorm, music building moves along
Construction on the two newest buildings on the Medford/Somerville campus is proceeding on schedule, as is work on the new south campus parking garage, according to Mitchell Bodnarchuk, the university's director of construction management.
Tufts engineering students check out the construction site for the new music building, scheduled to open by the end of the year. © MELODY KO
Sophia Gordon Hall, the 125-bed dormitory on Talbot Avenue, will be ready when students arrive for the fall 2006 semester. The west tower is now enclosed, with the brick/stone facade, roof and windows installed. The east tower will be enclosed soon. Interior partitions, mechanical systems and the beginnings of room enclosures are in process.
The Office of Residential Life held a lottery on February 17 for the 25 four-person apartments in Sophia Gordon. Sixty-five groups of four students each applied for the 25 units. The remaining apartments (four six-person units) will be assigned in the regular single-room lottery before spring break later this month.
The new music building, located near the intersection of Talbot and College avenues, is scheduled for completion by the end of December. The building is currently "tented" so that brick, stone, roof and window installations can continue during the winter.
In conjunction with the construction of the music building, renovations to the basement of Cohen Auditorium are expected to begin on May 1. All activities normally scheduled for Cohen will be moved to other locations.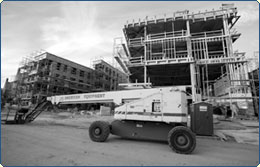 The new 125-bed Sophia Gordon Hall will be ready for students when they arrive for the start of the 2006-07 academic year. © MELODY KO
In addition, during spring break March 20-24, the façade of the entrance to the Aidekman Arts Center will be renovated; the interior will be renovated over the summer. Some of the roof covering Aidekman and Jackson Gym also will be repaired or replaced, and the dance studio will be relocated to the east side of Jackson over the summer.
At the new south campus garage, there will be 137 parking spaces on the ground level, with the entrance off of Lower Campus Road. Four tennis courts and two basketball courts will be built on top of the garage, about level with the walkway next to South Hall. Construction on the garage was delayed in December due to some unforeseen site conditions and will resume April 1, with anticipated completion in July.
Talbot Avenue will be re-surfaced and opened to vehicular traffic and parking before the start of the 2006 fall semester.