Onward!

More than 2,400 graduates primed for life after Tufts
by Marjorie Howard

"What a day. You couldn't ask for a better day," said one parent, eagerly waiting to see her daughter march to her graduation ceremony. Digital cameras snapped, video cameras whirred and cell phones were used to locate both parents and offspring during Tufts University's 150th commencement ceremony on May 21.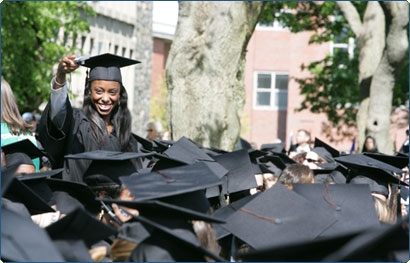 Tufts University's 150th commencement was cause for celebration. © MELODY KO
The parent was referring not only to her daughter's accomplishments but the fine weather that had participants in a sunny mood. Some 2,400 students from the undergraduate and graduate programs as well as Tufts' professional schools earned their degrees, with students from the Fletcher School of Law and Diplomacy among the most vocal in cheering themselves and their fellow students.
Lance Armstrong, a cancer survivor and seven-time winner of the Tour de France, gave the first commencement speech of his career, addressing all the graduates and their parents at the morning event.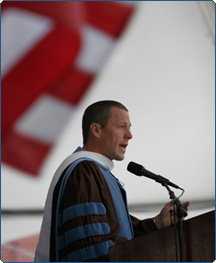 Seven-time Tour de France champion Lance Armstrong urged graduates to commit to active citizenship. © JODI HILTON

'Choose active citizenship'
Armstrong was diagnosed with testicular cancer, which eventually spread to his brain and his lungs. He talked about being treated for cancer and making the choice to become an activist and to start the Lance Armstrong Foundation, which provides information about cancer and funding for research.

Cancer, he said, "changed my life forever, and I'm going to tell that story as long as I have to…I chose active citizenship. And I challenge you all to choose that as well."

Calling Armstrong "an inspirational hero," Tufts President Lawrence S. Bacow presented him with an honorary doctorate of humane letters. Bacow also awarded honorary degrees to four other distinguished leaders:
Philanthropist and entrepreneur William S. Cummings, A58, founder of the real estate development firm Cummings Properties, LLC, founder and president of Cummings Foundation and a Tufts trustee emeritus, honorary doctor of public service degree
Gen. Joseph P. Hoar, USMC (ret.), A56, whose 37-year military career included enforcing the no-fly zone in southern Iraq and overseeing humanitarian and peacekeeping operations in Kenya and Somalia while serving as commander in chief of the U.S. Central Command, honorary doctor of public service degree
Evolutionist Lynn Margulis, whose revolutionary theory of inherited symbiotic bacteria and symbiosis in the evolution of life caused profound changes in thinking about the origins of species, honorary doctor of science degree
The Rev. Gloria E. White-Hammond, M76, pediatrician, pastor, medical missionary and humanitarian, who is now leading the Million Voices for Darfur campaign, honorary doctor of humane letters degree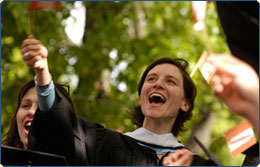 Fletcher School graduates were a vocal presence at the all-university commencement ceremony. © ZARA TZANEV
Thanks to the parents
At the degree-awarding ceremony for graduates of the School of Medicine and the Sackler School of Graduate Biomedical Sciences, Tufts Trustee Alfred I. Tauber, A69, M73, expressed confidence that today's graduates would find their way as morally aware physicians and scientists, despite the turmoil that has buffeted American science and medicine over the past three decades.
Medical class President Pavandeep Bagga summed up the intense drama of the past four years, including the collective trepidation at entering that first anatomy class and (in the third year) the wisdom of learning when to ask for help. Then he asked his classmates to stand, turn and thank their parents for their steadfast support. "Dad, that doesn't mean you're off the hook," Bagga joked when the applause subsided. "I still owe a lot of money."
Graduates of the Gerald J. and Dorothy R. Friedman School of Nutrition Science and Policy were easy to spot at the Somerville Theatre, where the school's degree-awarding ceremony was held: The graduates of the Agriculture, Food and Environment program decorated their mortarboards with the distinctive black-and-white pattern of Holstein cows.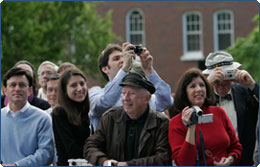 Capturing those special moments for the family album © JODI HILTON

Risk-takers
Dean Eileen Kennedy welcomed the 80 Friedman graduates, whom she has often called "the future leaders in nutrition." She pointed out three characteristics of people who have succeeded in making a difference in the nutrition field: They take risks; they never stop learning, and they have an undying enthusiasm for the work they do.

"It doesn't matter whether they have been doing it for five years or 60 years, the passion is still there," she said.

Aimee Witteman, who received an M.S. degree, drew upon one of the students' favorite pastimes—gardening—in her class address: "We have waited out the dark winter months, dreaming of ripe heirloom tomatoes and vibrant, sweet carrots, and are poised to start planting seeds that, in a few months' time, will yield such delights. Planting a garden, tending to it and harvesting do not involve hope as much as action. Committing oneself to social justice, nutrition science, food security and environmental health also requires us to act, not simply believe that better days will come. My purpose then, is not to leave you with a sense of hope, as much as a sense of action."

At a ceremony on Carmichael Quad, 173 members of the class of D06 became doctors of dental medicine. "This is a great day, the day you move from being a student to being a doctor," said Dean Lonnie H. Norris. "This is the beginning of a great career. Remember that each day is an opportunity to learn."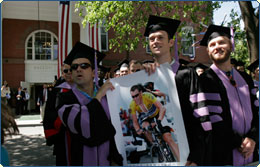 Fans of Lance Armstrong among the graduates of the School of Dental Medicine. © JODI HILTON

Dreams become reality
Neela Gandhi, president of the class of international dental students who trained at Tufts to practice in the United States, celebrated the cultural diversity at Tufts, calling the dental school "a place admired around the world, the place where the dreams of generations become reality."

Yun Saksena and Aaron Sheinfeld received the Dean's Award for Excellence in Clinical Teaching, and Joanne Falzone and Charles H. Rankin were awarded the Dean's Award for Excellence in Pre-clinical Teaching. Rankin, who has won this distinction every year since 2001, had three pieces of advice for the class of D06: "Enjoy your life," he said. "Keep your mom and dad as proud of you as they are today. And cherish the freedoms we have in this country. This is a great country."

In addition to the new D.M.D.s, eight students were awarded master's degrees, and 48 received postgraduate certificates of achievement and fellowships. The ceremony ended with David R. Russell, the dental school's associate dean for clinical affairs, leading the graduates as they recited the oath for dental graduates.

At the Fletcher School ceremony, the main speaker was Ian Johnstone, an associate professor at the school, who was given the James L. Paddock Teaching Award. At a separate ceremony the day before, the Fletcher Dean's Medal was presented to Dr. N. Hassan Wirajuda, F84, minister of foreign affairs of the Republic of Indonesia. Wirajuda said his life as a diplomat taught him that being a Fletcher graduate comes with a price: "People believe you can resolve any issue." And he told the graduates that "the power of diplomacy can be a wonderful and ever-changing tool of peace."
Members of the graduating class at the medical and Sackler schools ponder the moment. © JODI HILTON

Jamshed Bharucha, Tufts' provost and senior vice president, told the 77 graduates of the Cummings School of Veterinary Medicine, "People are in awe of this school. I guess when you go into practice, people will be in awe of you, too."

The best club
The graduates—70 women and seven men—chose Elizabeth Rozanski, assistant professor of clinical sciences, to be the faculty speaker. "Watching you develop into doctors has been the most fun for me," she said. She told the graduates that they were joining the "best club in the world," noting that veterinarians may not dress the best or have the best hair, "but veterinarians are among the best people on Earth."

Her words of advice to the new veterinarians: "Say yes every chance you get."

Marjorie Howard is a senior writer in Tufts' Office of Publications. Also contributing to this report were Julie Flaherty, Jacqueline Mitchell, Bruce Morgan and Jack Hopkins.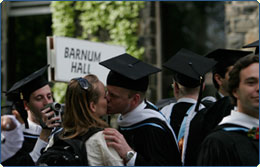 A celebratory smooch © JODI HILTON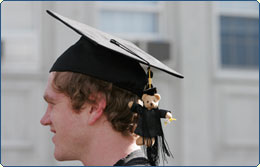 A "beary good" day © JODI HILTON