Failed levees

Students joined the experts in learning about New Orleans
by Marjorie Howard

While experts continue to try to understand why levees in New Orleans failed during Hurricane Katrina and what should be done to make sure it never happens again, eight Tufts engineering students examined the same problem.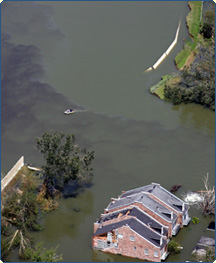 Flood waters from Hurricane Katrina flow through a broken section of the 17th Street levee in New Orleans last August. © AP PHOTO/DAVID J. PHILLIP
Under the direction of Prof. Lewis Edgers and Laurie Baise, an assistant professor, both in the Department of Civil and Environmental Engineering, the eight students worked on a senior project that analyzed the failure of the 17th Street and London Avenue levees in New Orleans. They also developed remedial designs.
The work was done with the assistance of Lee Wooten, an engineer with GEI Consultants of Winchester, Mass., who traveled with a team of experts to New Orleans last October to observe the levees and figure out why they failed.
"The students learned about one of the major modern infrastructures failures of our time," Edgers said. "They're using basic engineering principles and computer analysis and are learning how to approach an engineering problem."
"The fun part [in doing the project] is that the failures are not yet understood by professionals," said Wooten, an expert on dams. "At the same time the students worked on this project, the Army Corps of Engineers and other agencies were trying to come up with reasons for why things failed. The students will be able to compare their answers with those who have considerably more resources than students do and a lot more information."
The experience is invaluable for the students, Wooten said, because they will have a "very good understanding of the issues, and as more information comes through in the news, they will be able to appreciate the complexity of issues and have a very good understanding of what actually happened."
The students said that working on the project taught them how to grapple with practical issues "You have to design something that's safe, but you can't spend too much money—that's the conventional wisdom," said Jackson Hewlett, E06. "But with a city of millions of people, you have to spend enough money for public safety." Hewlett, who received his undergraduate degree in civil engineering in May, will return to Tufts this fall to pursue a master's degree.
Marjorie Howard is a senior writer in Tufts' Office of Publications. She can be reached at marjorie.howard@tufts.edu.