Community works
Celebrating the arts in Medford and Somerville
The University Art Gallery is showcasing the arts community in its two host cities, Medford and Somerville, with Tufts' third annual summer exhibition.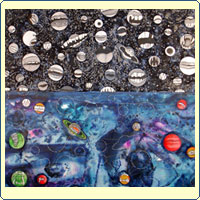 Denise Malis says her "interest as an artist lies in the interaction between our conscious and unconscious state of mind."
This year's exhibition, which runs through July 30 at the gallery on Talbot Avenue, focuses in depth on the work of 11 artists and offers presentations of two-dimensional works in various mediums and several site-specific installations. The exhibition is curated by Amy Ingrid Schlegel, Tufts' director of galleries and collections, and Mara Williams, former director of the Brattleboro Museum & Art Center in Vermont and principal of Arts Bridge Consulting.
The public is invited to tour the exhibition with a Tufts art gallery guide at 2 p.m. every Saturday in June and July, except July 1.
Featured in the exhibition are Aparna Agrawal, who was born in India and worked in the technology sector for 10 years before studying at the School of the Museum of Fine Arts; Kelvy Bird, who has a B.F.A. in painting and B.A. in modern art history from Cornell; Betty Bolivar, who does paintings, drawings and assemblages; portrait artist Jeffrey Elise, who did an apprenticeship with realist painter Damon Lehrer and works at Boston's Museum of Fine Arts; Nona Hershey, who studied lithography in Rome and woodcuts in Japan; Mary Kenny, who holds an M.F.A. from the California Institute of Arts, and Kyle Larabee, an architect with Pfeufer Richardson in Cambridge, Mass.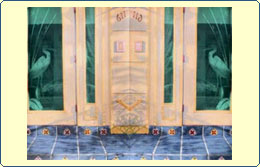 Maria Muller's work is a blending of photography and painting.
Also in the show are Denise Malis, who has a studio in Somerville; Maria Muller, whose work is represented in several public collections, including the Fogg Art Museum at Harvard; Chris Nau, who received a Somerville Arts Council Fellowship Grant this year; and Gabrielle Rossmer, whose installation, "In Search of the Lost Object," is in the collection of the Florida Holocaust Museum in St. Petersburg.
The exhibition and weekly gallery tours are free and open to the public. Summer gallery hours are Wednesday through Sunday, 11 a.m. to 5 p.m. For more information, call the gallery at 617-627-3518 or go to http://www.ase.tufts.edu/gallery.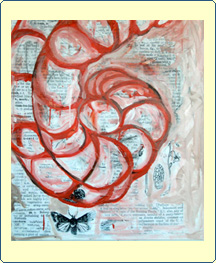 Aparna Agrawal has been making sculpture, paintings, drawings and mixed-media works for the past 15 years.