Rumors and race
30 years later, book still resonates
In 1975, Transaction published Rumors, Race and Riots by Terry Ann Knopf, media relations manager at the Fletcher School. A few months ago, Knopf received a call from Mary Curtis, her former editor at Transaction and now the company president, saying the decision had been made reissue the book in paperback, due out this fall.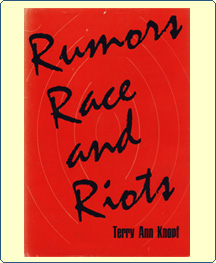 "Mary believed that two recent crisis situations, each accompanied by rumors having racial overtones, would create renewed interest in the book," Knopf writes in the introduction to the paperback edition. "One was Katrina, the massive hurricane that hit in August 2005, affecting New Orleans the most severely, particularly in the low-lying areas where poor blacks lived. With the area all but decimated, the situation was made worse by the presence of wild and menacing rumors that served to exacerbate racial tensions," she writes. "The other was the rioting in Paris that began on October 27, 2005, and involved young people from predominantly immigrant North African backgrounds. The Paris riots were triggered by a rumor that two young teens of African descent, on their way home from playing football, were being chased by the police.
"Were they actually being chased?," Knopf writes. "Or, did they think they were being chased? Fleeing the scene, they climbed over a barbed-wire fence, seeking refuge in an electric power station where they were electrocuted.
"Against the backdrop of these tragic events, it seemed my book might still be relevant and find a new audience," Knopf writes. "The book idea had grown out of my work from 1967 to 1973 as a research associate at Brandeis University's Lemberg Center for the Study of Violence. Charged with overseeing the Civil Disorder Clearinghouse, I had access to hundreds of news accounts about the race-related riots in the late '60s and had become intrigued by how often racially tinged rumors seemed to accompany the riots."
Peter Nichols of the Columbia Journalism Review says about Knopf's book: Her "conclusions about the media are disturbing. When called upon to sift substantiated fact from tall tales and exert themselves as authoritative, calming sources of untainted information, most journalists are incapable of shaking themselves free of preconceived notions and usually wind up…championing white attitudes over black. Knopf's lessons are scholarly and well documented…definitely worthwhile."
For more information about the book, or to order a copy, go to http://www.transactionpub.com.