Fighting malnutrition

5 facts about starvation that could change the world agenda

In a viewpoint article published in The Lancet, Rainer Gross, UNICEF's chief of nutrition, and Patrick Webb, dean for academic affairs at the Friedman School of Nutrition Science and Policy, present five surprising facts about children who suffer from severe malnutrition and argue that such conditions must be resolved in non-emergency settings to prevent future public health crises.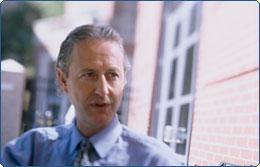 Patrick Webb © STEPHEN SHEFFIELD
Gross and Webb analyzed countries with the highest rates of child mortality and child wasting, a condition that signals severe malnutrition. Here's what they found:
#1 Contrary to popular belief, Africa does not have the most children suffering from wasting. "Although in the past 10 years, every sub-region of Africa saw a rise in the number of wasted children under age 5 and in the overall rate of wasting, 78 percent of the world's 5.5 million wasted children live in India, Pakistan and Bangladesh—nearly two-thirds of those in India alone," says Webb, former chief of nutrition for the U.N. World Food Programme.
#2 The absence of conflict does not prevent or resolve wasting in children. When the authors compared countries without recent conflict to countries that have recently emerged from periods of conflict or remain unstable, they found that "…stability, economic growth and even political transparency are not in themselves sufficient factors to overcome the persistence of wasting in marginalized vulnerable groups."
#3 HIV does not appear to contribute substantially and directly to severe wasting in children, although the authors say that "as the pandemic progresses, high HIV/AIDS rates will contribute to worsening nutrition, both from the direct effects of the disease and from an indirect impact on household food security and child care."
#4 Political and economic growth do not always automatically improve child nutrition. "Wealth creation at a national level does not preclude the persistence of wasting on a large scale," the authors write, noting that the United Arab Emirates, a wealthy country, has a wasting rate of 14 percent.
#5 The development agenda, Gross and Webb say, must tackle child wasting to make a lasting impact on human well-being. "Ironically," they write, "the international community has become much more adept at saving the lives of wasted children in the context of catastrophes than in the context of typical development. Millions of children need immediate, life-saving attention coupled with coordinated longer-term investments that will help prevent repetitions of nutrition and health insults as they grow into adulthood."