The owl and the bull
Veterinary educator calls it a career after 24 years
by Leslie Limon
Dr. Jim Ross greets a new visitor as if they're old friends, smiling broadly and bringing his face close as he offers a warm handshake. This is his first day back from vacation, which is obvious from the stacks of mail that have piled up.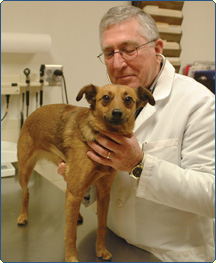 Dr. James Ross is a beloved educator and a primary builder of the Cummings School. © ANDY CUNNINGHAM
Looking around at an office filled to capacity, one sees the monumental task of sorting through and packing up material evidence of a 24-year stint at Tufts. Ross was not simply the first chair of the Department of Medicine at the Cummings School of Veterinary Medicine. He was key in helping to build the institution.
"Jim is one of the 'founding fathers' of the school," notes Dr. John Berg, who chairs the Department of Clinical Sciences. "He and [professor emeritus] Tony Schwartz, the first chairman of the Department of Surgery, were largely responsible for building the clinical side of the school and developed programs still in place today."
Earlier in his career, Ross worked in laboratory animal medicine with human artificial heart pioneers Michael De Bakey and Denton Cooley at Baylor University and then at the Medical College of Ohio. He came to Tufts in 1981, wanting to be "in a veterinary school teaching veterinary students, not in a medical college teaching medical students." It was a daring venture—and not just because the veterinary school was in its infancy. No other privately financed veterinary school had ever succeeded, though many had tried. It was precisely this entrepreneurial spirit that attracted him.
The night owl
He seized the chance to build something from scratch—hiring people he wanted to work with. Interim Dean Sawkat Anwer, whom Ross hired in 1983, recalls the way he built his department by helping "clinicians and basic scientists work together and learn from each other. Coming from a basic science background, I picked up so much from that," Anwer says.
Dr. John Rush, associate chair of clinical sciences, whom Ross brought aboard in 1989, credits Ross with "working long hours with a remarkably small faculty to put together a curriculum on a shoestring budget." Because Ross is a night owl, that meant everyone worked well into the night—including Dr. Susan Cotter, professor of clinical sciences, and Dr. Linda Ross, associate professor of clinical sciences, who recall being swept up by Ross' enthusiasm as they planned curriculum over drinks and dinner in area restaurants.
Rush still remembers Ross taking him out to dinner the night before his full day of interviews at the school. They stayed out until the wee hours—only to find their car locked inside the parking garage.
Life with a bull
While the stories characterize Ross' entrepreneurial side, he sees himself first as a veterinarian—a profession he began to consider when, as a kid growing up in Ohio, he joined a farm veterinarian on his rounds. His gift for getting along with animals actually surfaced when he was a toddler visiting a farm owned by family friends. One day he crawled inside the double-fenced pen of a "particularly troublesome bull," as he describes it. The horrified adults discovered him standing nose-to-nose with his new buddy, happily playing with the beast's nose ring.
Ross's colleagues might consider the bull to be a perfect first best friend for someone who spent so much of his incumbency pushing—whether ideas or people. Always it was for a good cause, as he kept advocating an agenda that was best for the school, the students and the profession.
He was also known for provoking debate to elicit new perspectives and make people re-think decisions. He often pushed back simply to test the strength of colleagues' convictions, not because he disagreed. And his trademark phrase, "Well, that depends," often pushed people to go beyond simple answers.
Ross is also credited with significant pushes in the field of veterinary medicine. He was instrumental in the establishment of the American College of Veterinary Emergency and Critical Care and the cardiology specialty group within the American College of Veterinary Internal Medicine.
Looking ahead
Among all his achievements at the school, Ross says, "Clearly my biggest joy—other than the school's success—has been hiring people and watching them mature as excellent clinicians, academicians or researchers." Many of them remain at the school today, many in positions of high responsibility, including Anwer, who cites Ross' mentoring as particularly valuable. "He always took joy and obvious pride in our successes," Anwer says. "It didn't matter whether he did it or not. In my mind, that's one of his greatest attributes."
In retirement, Ross plans to work half-time, indulging his joy in starting new things, as he helps to launch a specialty veterinary hospital in Buzzards Bay on Cape Cod. As president of the Massachusetts Veterinary Association, he'll also stay active in the profession. And he expects to stay involved "peripherally" with the Cummings School.
In his absence, colleagues say it is his teaching excellence that the school will miss most. Every single Tufts veterinary student over the past 24 years has learned cardiovascular physical exam skills as only Ross can teach them. Others cite the gap of not having Ross to ask the hard questions, as well as losing some of the institutional memory—knowing the history of what worked, what didn't and why. Says Anwer, "Some of us have asked, 'Who's going to keep us on track? Who will go down the basic checklist about what's right for the school, the students and the profession before coming to a decision?' "
If they were to pose those questions to Ross, he'd most likely answer, "Well, that depends."