Guarding home plate
Tufts nutritionist keeps the Sox healthy for the Fenway Faithful
by Jacqueline Mitchell
Tara Mardigan is sitting with four colleagues on a panel of public health professionals when someone in the crowd shouts out a question meant just for her.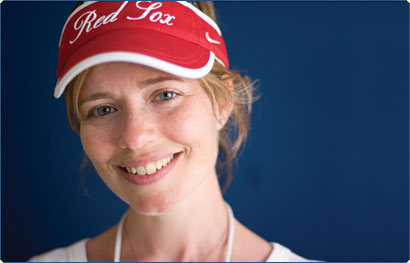 Friedman School graduate Tara Mardigan is helping the Boston Red Sox achieve optimum performance through sound nutrition. © TRAVIS DOVE
"What's up with Johnny Damon?"
She smiles, unfazed by a question she's probably been asked a lot lately. "Well, he's gone now, so we don't really care."
Mardigan, N02, is not just another Boston fan getting over the center fielder's defection to the Yankees. As the team nutritionist for the Boston Red Sox, Mardigan might be more concerned about pitching ace Curt Schilling's health than even the die-hard fans swarming Kenmore Square on a summer evening.
Mardigan's association with the Red Sox began when she started working with Schilling as a client. During her on-site consultations with him, the rest of the team would pepper her with nutrition questions.
Most baseball teams consult with nutritionists only when a player needs to be whipped back into shape after an injury or an illness. But seeing the general interest in the Red Sox clubhouse, Mardigan presented a proposal to the team, offering nutritional services that emphasized a preventive approach. Having witnessed her success with Schilling during 2004, the team said yes.
Professional athletes have the same nutrition questions as the rest of us, Mardigan says. Many of them are looking to trim the fat; some want to boost their energy and, says Mardigan, "no one ever wants to hear they have to eat more fruits and vegetables."
During her one-on-one counseling with the players, Mardigan downplays nutritional supplements and recommends eating a wide variety of natural foods. "I tell them to look for color, to eat color-rich foods—and no, Cheetos don't count."
Whetting her appetite
Working with the team is the latest step on a path she began forging as a young athlete herself, training as a gymnast in upstate New York. When some of her peers began starving themselves, she wondered which foods could fuel her body best. With herself as her first client, Mardigan embarked on a career that would have her asking that same question for a lot of people, from cancer patients, to private clients to the most scrutinized athletes in New England.
From her first day as an undergraduate at the University of New Hampshire, Mardigan worked to become a dietitian. After graduation, she matched with the Yale-New Haven Hospital Dietetic Internship Program where she prepared for the National Registration Exam for Dietitians.
Once licensed, Mardigan became a clinical dietitian at Massachusetts General Hospital in 1996, getting a strong introduction to specific nutrition prescriptions for various clinical situations. It was at a professional conference that she first heard of the Friedman School's Nutrition Communication Program. After three years at MGH, Mardigan enrolled at Friedman. "As soon as I started, I knew I was in the right place," she says. "Everything we were learning was very applicable. In class and outside of class, it seemed real. It seemed worth doing."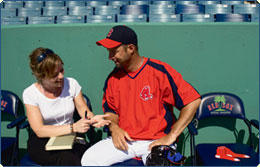 Mardigan consults with pitcher Tim Wakefield during spring training in Florida. © TRAVIS DOVE
Mardigan discovered her interest in public health halfway through the program. Working with Prof. Jeanne Goldberg, she figured out a way to graduate with both her master's in Nutrition Communication and her master's in public health. "I was really intrigued by the idea of making broad changes and finding broad-based ways of reaching people," she says.
Mardigan's career is marked by her creative approaches to reaching people in different walks of life. One day, walking by Sociedad Latina, a youth center in Boston's Mission Hill neighborhood, she popped in and proposed adding a nutrition workshop to the center's roster of health programs.
She talked to the kids and teens about how their eating habits could affect their health now and later on. She used engaging demonstrations to make her messages stick. "I remember slowly pouring 64 teaspoons of sugar into a bowl to show them just how much sugar was in the ever-popular 7-Eleven Double Gulp," she says. "Their jaws were all wide open with surprise."
Mardigan reaches out to the community in other ways, too. As one of four dietitians at the Dana-Farber Cancer Institute, she works to keep her patients well nourished despite the common side effects of chemotherapy and radiation therapy—including nausea and diminished appetite—by adding certain foods, eliminating others and tweaking meal schedules. She also fields the increasing number of questions that come in about combining herbs, vitamins, supplements and integrative therapies with traditional cancer therapies.
But the work can take its toll, too. "We get to know these people very, very well," she says. "When we suffer losses, it's always hard. Sometimes that can catch up with you."
Stepping up to the plate
In addition to her role at Dana-Farber, Mardigan runs a private practice called "Tara's Table." Mardigan meets with patients in their homes and creates customized diets that address her clients' nutritional needs while taking their lifestyles into consideration. She'll even take them grocery shopping, educating clients as they shop while keeping empty calories out of the carriage.
"It's an instant intervention," she says. "It takes a step out of the process. If it's not in their house, I don't have to get them to throw it away."
Mardigan is taking a similar approach to coaching the Sox in good nutrition. In addition to meeting with each major and minor league player, she also has made broad changes to the food served to the players before games.
"If I'm telling them one thing, and they only have access to something else, it's not going to work. They are not going to comply," she says. "It's really like any other public health measure."
The Sox may miss their pre-game pizza, but they—and all of New England—may be thanking Mardigan come October, as the team's improved nutrition increases their stamina and performance.
Jacqueline Mitchell is a senior health sciences writer in Tufts' Office of Publications. She can be reached at jacqueline.mitchell@tufts.edu.