In memoriam
Funeral services held for former dean of the Faculty of Arts & Sciences
Funeral services were held on June 5 in Cambridge, Mass., for Frank C. Colcord Jr., the former dean of the Faculty of Arts & Sciences at Tufts and a member of the political science department for 25 years. He died on May 31 at Mount Auburn Hospital in Cambridge. He was 80.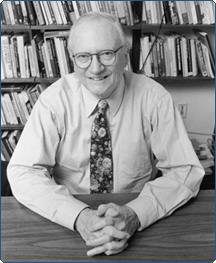 Frank C. Colcord © 1994 MARK MORELLI
Born on November 5, 1925, in Rockville Center, N.Y., Colcord served in the U.S. Navy in the South Pacific and was promoted to the rank of lieutenant. He attended Goddard College in Plainfield, Vt., and Middlebury College, where he received his bachelorís degree in 1949. From 1949 to 1950, he attended Syracuse Universityís Maxwell School of Citizenship and Public Affairs and earned his Ph.D. in political science from MIT in 1964.
Between his studies at Syracuse and MIT, Colcord spent 10 years working for the federal government. He was a special assistant in the State Department, helping to coordinate meetings with leading international figures, particularly from Asia. Colcordís government career eventually landed him in the U.S. Bureau of the Budget, where he worked as a management analyst and then as a budget analyst.
After leaving Washington, D.C., in 1959, Colcord began his studies at MIT, where he also was the community relations officer from 1963 to 1966. He was appointed an assistant professor of political science at MIT in 1966, and taught there until 1969, when he arrived at Tufts as an associate professor with tenure in the political science department.
Colcord served as department chair from 1969 to 1979. While on leave during the 1975-76 academic year, he continued his study of Canadian politics as a visiting professor at Regent College in Vancouver, British Columbia. In the fall of 1980, then-Tufts President Jean Mayer invited Colcord to become the dean of the Faculty of Arts & Sciences, a position he held through the summer of 1987.
After a year sabbatical, during which he served as a visiting professor at the University of Paris XII, Colcord returned to the political science department at Tufts. He retired in 1994, when he was named professor emeritus.
In addition to work in political science, Colcord traveled extensively and became an expert on the music of the Mediterranean. He was an accomplished vocal musician and a longtime fan of the Boston Symphony Orchestra. Colcord was involved in the Harvard Institute for Learning in Retirement, where he taught courses in politics and demographics. In recent years, he was active in the Emmanuel Gospel Center in Lawrence, Mass., where he worked with underprivileged students.
He leaves is survived by his sister-in-law, Nancy Colcord, and 10 nephews and nieces.