Access to care

Endowment will help dental school serve those in need

Delta Dental of Massachusetts has awarded a $5 million endowment to the School of Dental Medicine to create a chair in public health and community service and to improve care and access to dental care for persons with special needs and other underserved populations. It is the largest donation made to the dental school in its 107-year history.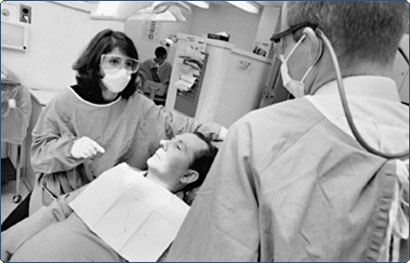 Dr. Gina Terenzi, left, director of Tufts General Practice Residency Program based at the Fernald School in Waltham, Mass., reviews a patient's treatment plan with a Tufts dental student. © MARK MORELLI
The individual appointed to the endowed chair will develop programs that will increase early diagnosis, provide risk assessment and improve overall oral health services for underserved and special needs populations, including people with disabilities, HIV/AIDS and survivors of violence. A specialized database will enable practitioners to unify electronic dental records and practice management systems at the Tufts Dental Facilities for Persons with Special Needs' eight clinics across Massachusetts.
"Thousands of Massachusetts residents with special needs lack oral health care for myriad reasons, including a lack of professionals who truly understand their unique medical and social needs," said Dr. Kathleen O'Loughlin, president and CEO of Dental Service of Massachusetts, which does business as Delta Dental of Massachusetts and is the largest provider of dental benefits in the state.
"Tufts Dental Facilities for Persons with Special Needs is unique in this country, and the endowment will enable that program to expand its leadership and care to people in great need," said O'Loughlin, who received her D.M.D. from Tufts School of Dental Medicine in 1981.
Low-income and minority populations, including individuals with disabilities, victims of violence and those who are elderly or homeless, are less likely to have access to adequate dental care and are at high risk for dental and oral diseases that create additional health problems.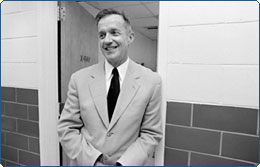 Dr. John Morgan directs the Tufts Dental Facilities for Persons with Special Needs. © MARK MORELLI
The Tufts Dental Facilities for Persons with Special Needs, headquartered at the Fernald School in Waltham, Mass., was established in 1976 and has eight clinics, run through a contract with the Commonwealth of Massachusetts, that serve more than 15,000 patients with mild to severe disabilities each year. It is a cornerstone of the School of Dental Medicine's community outreach and public service endeavors, which also include extensive work with people with HIV/AIDS and survivors of domestic violence, preventative care for students at area schools and humanitarian missions.
"The Delta Dental endowment will enable Tufts dental school to increase community outreach and service to underserved populations and advance evidence-based programs to diagnose and intercept oral disease in these populations," said Dr. Lonnie H. Norris, dean of the School of Dental Medicine. "Community service and public health are at the heart of the mission of Tufts dental school and are integrated into the curriculum. Historically, there have been limited funds to address access to dental care, and our faculty, staff and students are grateful to Delta Dental for its support of our shared vision to address these disparities," he said.