Head coach
Barron will skipper menís track program
Ethan Barron, the interim coach of the menís cross country and track and field program, has been hired as the Jumbosí new head coach following a national search to fill the post.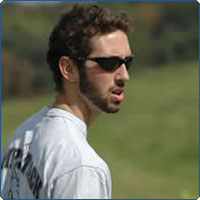 Ethan Barron
A 2001 graduate of Middlebury College, Barron previously worked as a graduate assistant and volunteer coach under Connie Putnam at Tufts from 2002 to 2005. When Putnam retired last summer, Barron was named the interim coach.
The Tufts program maintained its level of national achievement during Barronís first year. The cross country team posted its best-ever finish with a fifth place at the NCAA Championships. The Jumbos won their third straight New England Small College Athletic Conference (NESCAC) championship, and Barron was named NESCAC Co-coach of the Year.
During the track and field season, the indoor team was New England runner-up and sent five competitors to the NCAA Championship meet. Outdoors, junior Fred Jones won the NCAA triple jump crown. Senior tri-captain Trevor Williams was selected to receive a $7,500 NCAA postgraduate scholarship. And Barron was again voted by his peers as NESCAC Coach of the Year.
Barron was an All-American academically and athletically at Middlebury College. A chemistry and math major, he was second in the NCAA 55-meter hurdles indoors and third in the 110-meter hurdles outdoors in 2001. After a year of coaching high school in his home state of Vermont, Barron primarily coached the hurdlers, sprinters and horizontal jumpers as an assistant at Tufts.