Championship leap
Tufts junior wins national triple jump title
Fred Jones, A07, of the menís track and field team won the triple jump at the 2006 NCAA Division III Outdoor Championships at Benedictine University in Illinois on May 27.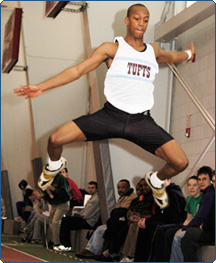 National champion Fred Jones © BRIAN LOEB
Jones broke his own school record with a jump of 49 feet, 7 inches (15.11 meters) on his third and final attempt in the first round. The distance held up in the final round, giving Jones the win in a field of 17 qualifiers for the event. University of Redlands junior Nathan Adkins came in second with a jump of 49 feet, 1 inch.
Second in the triple jump at the NCAA meet last spring and third as a freshman in 2004, Jones scored 10 points for the Jumbos to lead them to a tie for 20th place overall at the national meet. Dan Marcy, A08, also scored and earned All-American honors in the triple jump, reaching 47 feet, 9ĺ inches for sixth place.
Earlier in the day, Cat Beck, A08, finished barely a second behind (4:29.08) national champion Amber Druien (4:28.03) of North Central College in the 1,500 meters.