On the shelf
New book explores the visual representations of trauma
by Marjorie Howard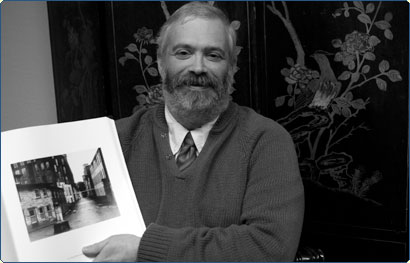 Eric Rosenberg © JOANIE TOBIN
In the late 1990s, art historian Eric Rosenberg began doing research on the American photographer Walker Evans and how Evans depicted trauma during the Great Depression. While studying Evans, Rosenberg, an associate professor of art history, became interested in how trauma was thought about in other disciplines.
At the same time, Lisa Saltzman, an art history professor at Bryn Mawr, was beginning to think about similar ideas. She recently had published a book on Anselm Kiefer, a modern German painter whose work deals with the contemporary German response to World War II.
The two spoke at a session Saltzman organized in which they discussed the visual representation of trauma in the 20th century. The result is a new book, Trauma and Visuality in Modernity, which will be published by the University Press of New England in January. The book is a collection of essays by 10 authors who explore the relationship between the traumatic and the visual in the modern period. Included is an essay on the artist Kara Walker, whose work depicts slavery; a discussion of the film "Hiroshima Mon Amour" and essays by both Rosenberg and Saltzman.
"Trauma was emerging as a crossroad of issues that were of great importance to a range of disciplines," Rosenberg said. "At the same time, artists had been dealing with these issues for a long time, yet art history had not come to look at this in any concentrated fashion."
A deferred quality
Trauma, he said, "is an experience that is beyond the power of human consciousness to adequately process in the way we process the everyday. We are unable to put it behind us. Because such an experience is so large, there is an inability to process it in the moment of occurrence, which gives it a deferred quality. So it doesn't emerge as definable until later."
Trauma theory, Rosenberg said, is an attempt to determine the experiences, behavior, symptoms and representations of trauma.
Freud addressed the post-World War I experience of trauma in Beyond the Pleasure Principle, a book Rosenberg describes as a "fundamental building block" in the examination of trauma. During the late 1960s and early 1970s, Rosenberg said, clinicians developed the diagnosis known as post-traumatic stress disorder because of the experience many soldiers had in Vietnam. Art historian Hal Foster, who teaches at Princeton, has written about the traumatic as it is manifested in the avant-garde. Otherwise, said Rosenberg, "the topic has not been addressed very much by art historians."
Walker Evans, who died in 1975, is probably best known for his book Let Us Now Praise Famous Men, with text written by James Agee. That book, said Rosenberg, offers "some of the most obvious images of the Depression that arose to the forefront of popular consciousness. Those images are of sharecropper families, and the photographs put a face on the Depression."
Images without people
Rosenberg has studied Evans' images that "get at the notion of trauma in the Depression as an experience in more complex ways." These were, he said, "images that were devoid of human beings but captured places, spaces and arrangements of material objects." One example is of an empty street in a factory town in upstate New York, and another is of the interior of a general store in Alabama.
Evans at times chose to portray the trauma of the Depression without people to "organize more clearly his thoughts on the Depression as an act or event of evacuation on many fronts—social, mental and moral—as a result of the calamity of experience that led to personal and social ruin."
In the general store photograph, Rosenberg said, "the abundance of goods in the midst of financial denigration seems to me designed to avoid a more romantic view of the suffering in this moment."
Marjorie Howard is a senior writer in Tufts' Office of Publications. She can be reached at marjorie.howard@tufts.edu