Global partner
University forges ties with India
Led by Tufts President Lawrence S. Bacow and Provost Jamshed Bharucha, a delegation of key faculty, staff, trustees and members of the International Board of Overseers traveled to Mumbai and New Delhi, India, in November to meet with international leaders, public officials, academics and acclaimed entertainers in an effort to bolster the university's relationship with one of its highly valued global partners.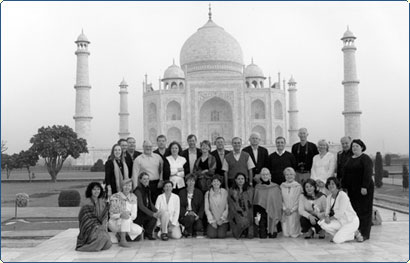 The Tufts delegation to India in front of the Taj Mahal
"India is strategically important to the university and home to a large number of Tufts students, alumni and faculty," Bharucha and Bruce Male, A63, a Tufts trustee and chair of the International Board of Overseers, wrote in a letter describing the objectives of the meetings in India. "The university hopes to increase the number of students coming from India as well as strengthen relationships with our alumni and with important Indian institutions."
As part of that effort and "to augment its reputation as a world-class academic institution," Tufts sponsored information seminars, lectures and dinners during the visit.
Over five days, Tufts hosted a meeting of the heads of Mumbai's premier colleges and universities to discuss opportunities for collaboration and held panels on "The Future of the Pharmaceutical Industry in India," "Human Security and the Role of Water" and "The Role of India in the World." The panels brought together leaders in international industry, government and education.
The university also organized a presentation on the "Development and Impact of Indian Film," which featured Bollywood star Amisha Patel, J97. Bacow presented Patel with Tufts' P.T. Barnum Award for Excellence in Entertainment, an honor bestowed upon only three other alumni—actor Peter Gallagher, A77; Cary Granat, A90, a film producer and CEO of Walden Media; and Courtenay Valenti, J85, a film producer and vice president of Warner Brothers Films.
UN Undersecretary-General for Communications and Public Information Shashi Tharoor, who holds three degrees from the Fletcher School, received the Fletcher Dean's Medal, while India's Prime Minister Manmohan Singh was awarded the President's Medal.
Tufts further strengthened its relationship with India by signing agreements with a local hospital and two dental institutions for collaborative ventures with Tufts schools of Medicine and Dental Medicine.