Patent pending
From Tufts labs come inventions that are changing the world
by Marjorie Howard
From dietary supplements to genetic research to a new way to harness energy for cars, the office that handles patents for Tufts is helping to bring research conducted at the university to the public, where it can have the greatest impact.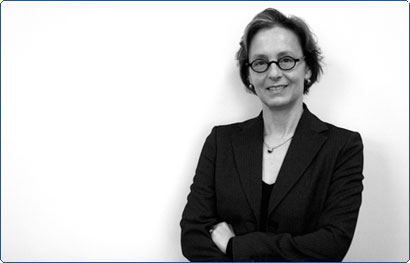 Nina Green directs the office that helped Tufts and its researchers earn more than $10 million in licensing income in four years. © JOANIE TOBIN
The Office for Technology Licensing and Industry Collaboration was created in 1998 under the leadership of Vice Provost Peggy Newell. Working closely with faculty inventors, the office applies for patent protection for inventions and then seeks a commercial partner that will develop the invention under a license agreement with Tufts. In negotiating this license, the office ensures that the company is committed to bringing the invention to the market for the public benefit and that Tufts receives fair compensation, including royalties on product sales.
In addition to its work on patents, the office also protects Tufts' name by registering university trademarks and advises faculty on copyright ownership.
Technology developed at universities used to fall into the public domain. In 1980, Congress passed the Bayh-Dole Act, which allows universities to have exclusive rights to their inventions and to license their intellectual property. The Tufts technology office, directed by Nina Green, has been able to achieve some important successes during its seven-year history.
$10M and counting
From 2000 to 2004, Tufts and its researchers received 62 patents and earned more than $10 million in licensing income from a combination of fees, equity and royalties on product sales.
One early success is a product called BeadArray, invented by David Walt, professor of chemistry. His device is a miniature lab platform that allows researchers to conduct drug screening and other repetitive experiments quickly and cheaply. Eventually it may be used to enable diagnosis and treatment on an individualized basis.
Walt's discovery was licensed in 1988 to Illumina, a San Diego-based company that develops technology and kits for use in genetic research. Tufts owned stock in the company, and when Illumina went public, the university received nearly $8 million, which was used to renovate the chemistry building. The company is now selling BeadArray to genetics laboratories, and Tufts receives royalty income from these sales. As the technology becomes more widely used, royalties are expected to increase over the life of the license.
Green noted that Illumina has had relatively quick success in getting BeadArray to the marketplace. More typically, it can take a decade or longer for a university to realize income from early-stage inventions. Under policy guidelines, royalties are distributed so that 40 percent goes to the inventor, while the inventor's department, school and the university each receive 20 percent, all to be used for research.
The search for novelty
Green said there are three criteria that need to be met before a patent can be granted: novelty, usefulness and non-obviousness to others.
If those criteria are met, she said, her office will file a provisional application with the U.S. Patent and Trademark Office. Over the provisional year, Green's office has the opportunity to more fully assess the commercial potential of an invention and find a licensee. A provisional filing also gives the researcher additional time to generate data supporting the invention that may strengthen the patent application and possibly enable the negotiation of higher royalty returns.
When the provisional year is up, Green's office determines whether to file what is called a utility patent application, which is examined by the U.S. Patent Office, and whether to simultaneously file applications for foreign patents.
Obtaining patent protection is an expensive proposition. Initial fees alone for the application, legal assistance and other costs can reach $20,000. It is not unusual for a patent to cost $50,000 to $60,000 before it is granted in this country and abroad. A mandate for the Tufts office, Green said, is to find a licensee that will bear these costs as well as the costs of commercial development in exchange for rights to practice the invention.
Another recent success is a patent that covers compounds and methods discovered for the treatment of Type 2 diabetes by William Bachovchin, professor of biochemistry. The patent has been licensed to a Tufts start-up company, Arisaph. Several major pharmaceutical companies whose own compounds rely on administration using methods described in the Bachovchin patent will need to obtain license rights under this patent. Eventually, Tufts will receive royalties.
Among some other successes are:
—Research done by Dr. Simin Meydani, director of the Nutritional Immunology Laboratory at the Jean Mayer USDA Human Nutrition Research Center on Aging (HNRCA) and a professor at the Friedman School, earned a patent for a formula to boost the immune system. The formula, which is not yet licensed, is intended for the elderly and could be used in a drink or a bar. A company is interested in using the formula as part of a program to develop nutraceuticals—foods and supplements that may confer certain health benefits.
—Dr. Andrew Greenberg, director of the HNRCA Obesity and Metabolism Laboratory, developed a process to inhibit the production of glucose that has been licensed to Celgene, a global pharmaceutical company. The company wanted a monopoly on such inhibitors, and the Tufts research was the missing piece.
—Ronald Goldner, professor emeritus of electrical and computer engineering, conducted research resulting in a recent patent for an electromagnetic regenerative shock absorber for the automotive industry. Goldner's work involves using all the minute vibrations that a car's shock generates and turning those vibrations into energy, according to Martin Son, Tufts' associate director of licensing. The idea is now being marketed.
—Dr. Stuart Levy, professor of molecular biology and microbiology and of medicine, has developed a new form of tetracycline that inhibits bacteria known to be resistant to existing antibiotics. Levy, director of the Tufts Center for Adaptation Genetics and Drug Resistance, founded Paratek, a privately held biopharmaceutical company.
—Tissue Regeneration Inc. is a venture-funded company working to engineer replacements for the anterior cruciate ligament in the knee and the rotator cuff in the shoulder. Its fundamental patents all arose out of basic research done at Tufts. Among its researchers are Gregory Altman, a Tufts alumnus who is founder, president and CEO of the company, and David Kaplan, professor and chair of biomedical engineering at Tufts.
Marjorie Howard is a senior writer in Tufts' Office of Publications. She can be reached at marjorie.howard@tufts.edu.