Academic dean
Political scientist joins A&S leadership team
by Helene Ragovin
The first time she stepped into a Tufts classroom, Vickie Sullivan knew she'd made the right career move.
"The best job in the world is being a teacher and a scholar at Tufts," says Sullivan, professor of political science and the newly appointed dean of academic affairs for the School of Arts & Sciences. "The atmosphere at Tufts is the best that a professor can expect; the students are intellectually engaged and very bright. At that first class, I fell in love with Tufts."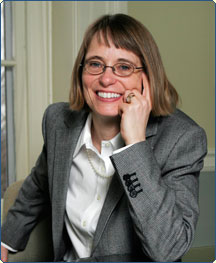 Vickie Sullivan © JODI HILTON
Sullivan will work closely with Kevin Dunn, dean of academic affairs, and Arts & Sciences Dean Robert Sternberg as they collectively oversee all departments and programs in the school. Sullivan and Dunn each will have responsibility for various projects and initiatives within the natural sciences, social sciences, humanities and the arts.
"[President Bacow] has assembled an excellent team," Sullivan says. "The chance to work closely with Dean Sternberg was very appealing … I like his vision, and I'm looking forward to helping him implement it."
Sullivan has been at Tufts since 1996 and has chaired the political science department since 2003. "I was surprised how gratifying I found administration," she says. "I went into academia to be a teacher. I knew how much I enjoyed scholarship and how important it was to my life. I never saw myself in an administrative role."
As a department chair, Sullivan says she realized the rewards that come with "helping other people do what you love. In fact, it's very gratifying to help other people do that. And you're helping the institution 30, 40 years into the future."
In particular, Sullivan relished the chance to be a mentor. "I valued being able to hire the strongest possible young people and see their careers flourish, to have some part in their career development," she says. "That can continue on a much larger scale at A&S. Mentoring, particularly junior faculty, is very important to me."
As a scholar, Sullivan's area of expertise is modern political philosophy. Her current research focuses on the 18th-century French political theorist Montesquieu; she is teaching a senior seminar on his work this semester. She intends to continue teaching one class a year. "I'm a firm believer that teaching and research are complementary," she says. "The best teaching is when a professor explores a current area of interest."
While firmly rooted in political science, Sullivan's work stretches into other disciplines. Her courses have been cross-listed in both philosophy and classics. Her work also has encompassed the study of intellectual history and literature, and she has edited books about the literary works of Machiavelli and the politics of Shakespeare.
Sullivan shares Sternberg's goal of increasing the quality of scholarship at A&S. "I firmly believe we can do that without sacrificing anything in terms of our really strong teaching," she says. "The leadership team has really high aspirations for the institution, and I want to be a part of that."
Sullivan has a bachelor's degree from Carleton College in her native Minnesota and a master's and doctorate from the University of Chicago. She lived in New York before coming to Tufts. (She jokes that she has spent her life "working my way East.") She lives in Lexington, Mass., with her husband, Dan, an attorney, and her twin 6-year-old daughters.
Helene Ragovin is a senior writer in Tufts' Office of Publications. She can be reached at helene.ragovin@tufts.edu