Healthy labels
Ferreting out trans fats while you shop
The USDA made its own New Year's resolution: As of January 1, a list of trans fats—the unhealthy fat often added to foods to extend their shelf life—appears on food labels so now you'll know if you're eating something that may not be good for your heart.
Also on January 1, the USDA started requiring food manufacturers to identify products containing allergenic proteins from any of the eight major allergy-inducing foods: milk, eggs, fish, crustacean shellfish, tree nuts, peanuts, wheat or soybeans.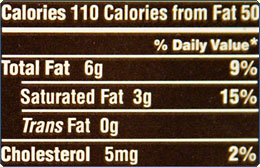 © JOANIE TOBIN
Trans fats, like saturated fats, are known to be risk factors for cardiovascular disease. Both types of fat raise LDL or "bad" cholesterol levels. While saturated fats are included in all food labeling, it wasn't until New Year's Day that food manufacturers had to identify the amount of trans fats in their products.
Trans fats are formed by adding hydrogen to vegetable oil, so labels that included the words "hydrogenated" or "partially hydrogenated" signaled that trans fats were probably in the food. But that labeling didn't indicate the amount of trans fats in a product.
Most food labeling is based on a 2,000-calorie diet, and 20 grams is the recommended daily limit for saturated fat. Now that trans fats are included on product labels, consumers can add them to saturated fats to see how close they are to the 20-gram daily limit.
Alice Lichtenstein, director of the Cardiovascular Nutrition Laboratory at the Jean Mayer USDA Human Nutrition Research Center on Aging, says the new trans fat labeling requirement may produce another benefit—encouraging food manufacturers to limit the trans fats in their products. "It really causes the reformulation of products."
The allergen-content labeling requirement comes on the heels of the 2004 Food Allergen Labeling and Consumer Protection Act, aimed at protecting the estimated 2 percent of adults and 5 percent of young children vulnerable to sometimes life-threatening food allergies. Each year, 30,000 Americans are treated in hospital emergency rooms for dangerous allergic reactions, and 150 die from fatal reactions.